The Nashville African American Wind Symphony will hold their debut performance, "Juneteenth – A Celebration of Freedom," on Sunday, June 19 at 4 p.m. at Belmont's McAfee Theater. Purchase tickets here.
Belmont alumna Ashley Crawford has seen a lot of "full-circle moments" in her life.
When she was 10-years-old, "the flute chose her."
She realized this as she was sitting in the movie theater to see the new film, "Pocahontas," and the images of the dancing leaves across the native scenery captured her heart as the sounds of the flute filled the soundtrack.
The next week in her elementary school music class, she picked up the flute, gave it a try and described the noise that came out as "the purest tone" (after having the opposite experience with all the other available instruments).
That same day, her dad coincidentally came home and gifted her with her very own flute, knowing how much she loved hearing its melodies in "Pocahontas." Full circle.
Fascinated with the instrument, she flew through an instructional book and quickly taught herself how to play. "It took on a life of its own," Crawford beamed.
Naturally, she continued playing in the band through middle and high school and then attended Tennessee State University to play in the marching band and study music performance, with hopes of someday joining a symphony. After graduating and taking a gap year, Crawford started in Belmont's Master of Music program.
Admittedly, Crawford said growing up in predominantly black spaces made coming to Belmont in 2012—a predominately white institution—a challenge. But she continued to show up, be her best self and focus on the task at hand.
Thankfully, she felt as though her Belmont professors were very hands-on with her. She mentioned Director of Orchestras Dr. Robert Gregg as one of her favorites, Instructor of Flute Dr. Carolyn Totaro for helping her "break through the glass ceiling" on the classical flute track, and others like Dr. Richard Hoffman, Dr. Richard Shadinger, Dr. Madeline Bridges, Dr. Terry Klefstad and Dr. Barry Kraus for loving her well and presenting her with opportunities both in the University and the community.
Getting to perform in Belmont's Symphony Orchestra was a new experience for her. Although she was asked to play principal flute in Belmont's Wind Ensemble, she decided she wanted to instead take on a new challenge and focus on the symphony. She described a rocky start, feeling uncomfortable in the new space but wanting to practice and prove to herself she could do it, all while meeting the demands of graduate-level coursework.
Today, those lessons learned are still being utilized as Crawford serves as the co-founder and president of the new Nashville African American Wind Symphony, a local wind ensemble composed of Black musicians. Many of the musicians in the ensemble studied music in college but put their instruments down after graduating. This group is a reason to pick them up again and restore their lifelong love for music.
Co-founder Bruce Ayers, a friend of Crawford's from TSU, came to her about a year ago presenting his vision for the group and a proposal for her to come on board. Crawford said, "Of course. Let's find a rehearsal space, find some instruments and drop the downbeat."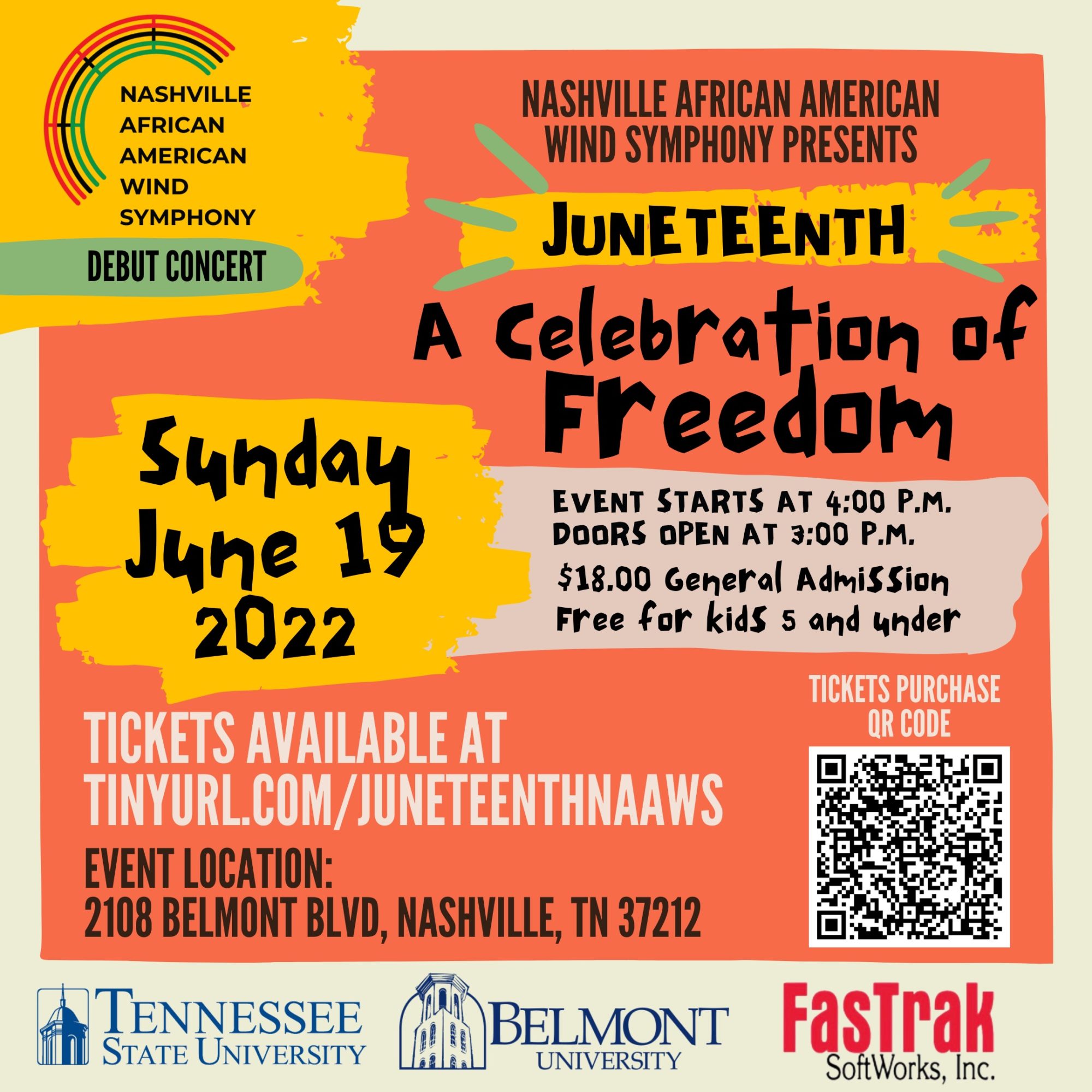 The group began rehearsing each month and will hold their debut performance in celebration of Juneteenth on June 19 at 4 p.m. in Belmont's McAfee Concert Hall. "Juneteenth: A Celebration of Freedom" will dive into the history of Juneteenth, feature works by African American composers and include selections from other local artists and groups.
Another full circle moment. The opportunity to see the Belmont stage filled with talented Black musicians has been extra meaningful to Crawford.
If one were to go to a classical symphony in Nashville or any other city, he or she would mostly see one type of player, a narrative NAAWS is hoping to change by shedding a light on how the Black community is able to perform classical music well.
"This concert is personal to me because sometimes when I'd come out on that stage, I felt like I had to do more to prove that I was good enough to belong there," Crawford said. "This is showing the community that we can be part of these spaces, and we can play in harmony with other groups. That's what music is about."
Crawford talked about how representation matters, and the group is a great opportunity to create exposure for the Black community and invite them into those spaces where they do not always feel welcome.
"We created this organization to serve African American Nashvillians. It provides an environment where these types of players will feel safe, feel seen and feel heard in a space where that doesn't often happen," Crawford explained.
"We want the community to have access to see people who look like me play this music and see that they can play it well. We want to create this community where everyone feels welcome and comfortable coming. Our youth will see a group of musicians that looks like them and think, 'hey, I can do that, too.'"
In addition to leading the NAAWS, Crawford teaches flute at TSU, offers private lessons and records original music under the name FluteBae, a name that stuck when a video of her free-styling for the "mask off challenge" went viral in 2017.
Since then, she has had continued success under that brand, receiving new opportunities both commercially and through private lessons. At the upcoming National Flute Association convention, she will be a guest clinician and teach about flute and hip hop.
"It's been interesting to see how things are pivoting outside of traditional flute and classical music. When I found myself on the traditional road and in the audition circuit, I was in a low place feeling like I wasn't good enough or feeling burnt out," Crawford explained. "So, with FluteBae, I've been able to break out of this box of perfectionism found in classical music and branch out, using those classical elements I've been trained in for so long, but learning and implementing other elements of playing such as jazz, funk or hip hop, and it's all in one sound now that is being recognized under the FluteBae name. It's been instrumental in finding myself and my voice."
FluteBae's first EP will be released at the end of July.
To learn more about NAAWS, visit their website and be sure to attend their debut performance at Belmont on Sunday, June 19.