Now a newly recognized federal holiday, Belmont University held an event called "Juneteenth: Celebrating Freedom" on Friday, June 18, 2021 to celebrate Juneteenth on campus.
Juneteenth, celebrated each year on June 19, is a day designated to commemorate the emancipation of enslaved people in the United States. Sometimes referred to as "America's second Independence Day," this is a day worthy of celebration that those enslaved black Americans were granted their freedom; but also of reflection on the harsh reality that freedom was so cruelly withheld from them in the first place.
Belmont's reception and exhibit featured a visual display, designed to educate, engage and inspire, explaining the importance of the holiday as well as the opportunity for Belmont community members to support local businesses owned and operated by black business men and women. A special display at the event presented the life stories of relatives of black Belmont faculty and staff members after receiving their freedom. Also present at the event was information about other Juneteenth events in the Middle Tennessee area happening over the weekend.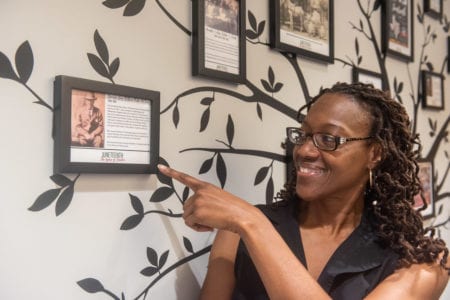 "Creating this event for the campus community is truly a labor of love," said Dr. Mary Clark, assistant dean of students & director of Bridges to Belmont. "I am passionate about providing all an opportunity to learn, contemplate and lean in to information and experiences they are not familiar with. Juneteenth is something my family and I have always celebrated, and I am grateful for the opportunity to share that with the campus. My hope is that this celebration is simply the beginning – there will be more events, displays and opportunities to explore, engage and exemplify the Belmont State of Mind."
Belmont President Dr. L. Gregory Jones thanked Dr. Susan West and Dr. Mary Clark for leading the effort to make this exhibit available. "This is the type of Bridge Building work we need to be doing – work that acknowledges painful history, promotes understanding and empathy, and creates opportunity to build community," he wrote in an email to campus. "It is an excellent example of making progress toward our goal for Belmont to be a leader in reweaving the social fabric."
View photos from the event here.