Lacie Thorne was standing in a factory in mainland China surrounded by 60,000 pairs of neon pink jeans she designed for the Jennifer Lopez line for Kohl's in 2011. It was a moment that would forever alter how she viewed "fast fashion" and set her on a course to improve the industry.
"There was a light bulb moment and it was just, 'I can't believe that we are using our resources to grow the cotton, neon-dye the fabric, all of the human labor, all of the shipping involved to create this product, when we're going to sell it for $19, the consumer's going to wear it twice and then they're going to throw it away effectively,'" she said.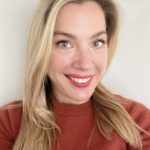 The clothing industry is responsible for up to 10% of carbon emissions annually, surpassing international flights and shipping combined. While she's designed and styled for top celebrities and brands across the U.S., Hong Kong and Paris, it's sustainability that fuels Thorne's work now. And technology is the driving force. Thorne currently serves as an adjunct instructor for O'More College of Architecture & Design at Belmont University and leads classes in Fashion Portfolio Development, Internship, Marketing Fashion Brands and Senior Capstone. She's also the founder of Phigitals, a blockchain-based web (web3) fashion resale venture, that incentivizes individuals and brands with royalties when they resell an item of clothing. It's the missing link that could help fuel a second-generation life cycle of quality items.
And the newest generation of consumers – as well as students of the fashion industry – are primed and ready for such innovation. "This generation's fashion students are incredibly passionate about fashion sustainability (as is just Gen Z in general)," she said. "They're more aware of the opportunities in fashion sustainability. They see the need and impact for it and are super passionate about initiatives and sustainable fashion."
Phigitals uses NFTs, non-fungible tokens, and associated smart contracts to list and resale fashion items and incentivizes brands and consumers to think of the longevity of garments in four ways:
Incentivizes brands and consumers with royalties.
"The smart contract allocates a royalty distribution upon the resale of every fashion item. So normally when a consumer resells an article of clothing on Poshmark or eBay, those platforms will take up to and above 25%. And that is the end of the transaction, but the brand isn't incorporated into that profit model at all.…They aren't incentivized to care how many times that article of clothing exchanges hands in the future, because they don't receive a profit from it….We believe that when brands are incorporated into the profit loop, they will create quality garments that last beyond the first-generation user, because they want to extend that royalty lineage as far as possible.
"Our smart contract also includes a portion of royalty distribution for what we call the 'Consumer Lineage' for the people who have owned that exact item. So using our platform, theoretically, a consumer could buy a really nice jacket in the year 2022, take good custodial care of that jacket, and then resell it into a community of people that is going to keep it in circulation and still be receiving royalty commissions on it in the year 2050."
Adds value with "metadata memories" feature.
"Consumers can actually upload what are called metadata memories to their individual NFT. Our hypothesis is that the actual ownership lineage of an item can increase the value of that item, depending on what kind of memories and what kind of people have actually been verified to own that specific item before."
Generates marketing data for better product decisions.
"When consumers upload these metadata memories to the NFT, brands can actually get verified consumer data associated with the objects that people buy and how they use them: 'If I own this Nike jacket and I upload a memory of myself going to a Mexican food restaurant and then going ice skating.' That information is incredibly valuable to brands from a marketing perspective… And therefore [brands] can create better products that match consumer demand moving forward and avoid the carbon associated with products that consumers don't want."
Makes it easy to list an item for resale.
"Normally, when you want to sell something on a secondhand marketplace, the listing process is really clunky. You have to take a picture of the item, write a description, choose the platform and hope that your item finds a buyer. And with our platform, you can be standing in front of your closet, and because all of that information is preloaded onto the NFC, including beautiful marketing images, description, care content, labels, including everything up to measurements, just hit the resale button on your NFT. And it streamlines the process to upload to a brand's existing eCommerce website as an API extension of their existing retail platform."
Secondhand fashion is big business. The global secondhand market is growing at 3x the rate of the global apparel market. In the U.S., it is expected to more than double by 2026, reaching $82 billion.
Thorne is launching her Phigitals platform, initially funded by the Yale Entrepreneurial Fellowship program, at Rolling Loud, the world's largest hip-hop festival, held in New York City Sept. 23-25. (If you have a crypto wallet and are familiar with cryptocurrency, you can reach out to Lacie directly to volunteer to test the prototype right now before the launch.)
Thorne was born in Nashville, received her undergraduate business degree in Texas, and enrolled in Parsons Fashion Program in NYC. After working for 10 years as a fashion designer for brands including DKNY, Theory, Tibi and White House Black Market, she launched several lines for celebrities, including Jennifer Lopez for Kohl's, Adam Levine for Sears and Nicki Minaj for Kmart.