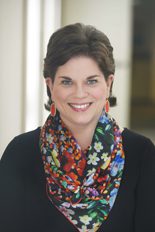 Belmont Associate Provost for Interdisciplinary Studies and Global Education Dr. Mimi Barnard was recently invited to speak at the USA College Day in London.
Barnard and Claire Wilkins, director of International Admissions at Temple University, co-led a seminar on September 28 entitled, "US vs. UK Universities: What's the Difference?" Barnard presented on curricular and co-curricular differences between American and U.K. institutions, including high-impact practices, such as undergraduate research, service learning, internships and study abroad.
Barnard said, "Belmont's national reputation for study abroad has increased over the last several years, which was a precursor to being invited to serve as an IIE panelist—my two partner presenters were from the University System of Georgia. And, it was an honor to be invited to speak at USA College Day. I enjoyed sharing information about Belmont, and I look forward to increasing opportunities for recruiting international students, as well as American students who live abroad. It brings global perspective in the classroom that is beneficial to everyone."
Organized by the US-UK Fulbright Commission in partnership with the University of South Florida, USA College Day is the largest U.S. university fair in Europe, and more than 4,500 prospective undergraduate students and their families attended the two-day event.
On September 26, Barnard also served as a webinar panelist for The Consortium for Analysis of Student Success through International Education (CASSIE), hosted by the Institute for International Education (IIE) prior to USA College Day. During the webinar, entitled "Making Evidence-Based Decisions: Using Data to Advance International Education," Barnard spoke about her experiences leveraging data to advocate for institutional change, using the embedding of study abroad in the Honors Program as an example.
CASSIE is led by the University System of Georgia (USG) in coordination with the Institute of International Education and funded by the U.S. Department of Education's International and Foreign Language Education Office. CASSIE is a research partnership to study the impact of international education experiences – study abroad, taking a foreign language, Title VI program participation–on student success outcomes.