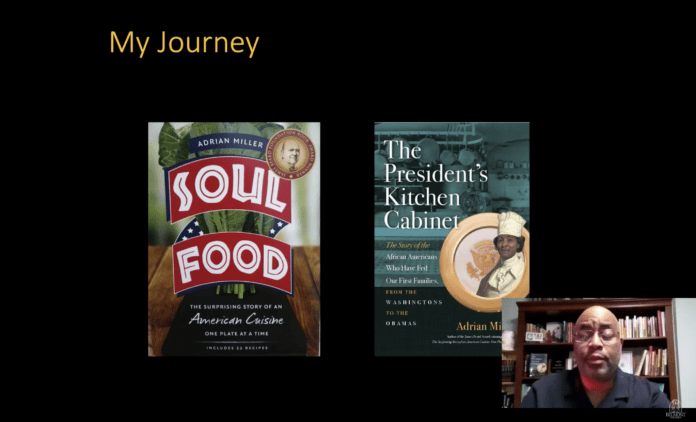 In the third series of the White House Style series presented by the O'More College of Design, award-winning food writer, attorney, certified barbecue judge and former White House staffer Adrian Miller, discussed the excitement that happens inside the main kitchen of the presidential residency. Joined by a number of significant Nashville chefs preparing a multi-course meal inspired by the favorite meals and recipes of our presidential families, Miller also discussed presidential food history and the previous and present cooks of the White House.
A graduate of both Standford University and Georgetown University, Miller is the executive director of the Colorado Council of the Church and was the first African-American to hold that position. He also serves as a board member of the Southern Foodways Alliance. His first book, Soul Food, was published in 2013 and has won various awards including the James Beard Foundation Book Award of 2014.
Throughout the night, Miller discussed the rooms and improvements to the kitchen with each presidential shift. He shared that the hands that prepared much of the White House's food were African-American, up until the 19th century when the Spanish-American war started to bring in more Filipino cooks.
The White House has had many important chefs including, Laura "Dolly" Johnson who originally wanted to stay in Kentucky to become a caterer, but was persuaded to bring her talents to the White House. Bill Yosses, pastry chef, and Sam Kass, the main chef, are two of the residency's most acclaimed cooks under the Obama administration.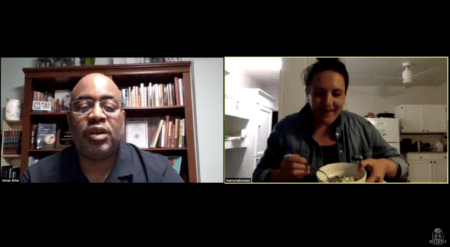 Additionally, Miller shared the many unique food challenges that the White House has encountered including the "Great Chili Controversy of 1964" which was an extended phone call between chefs discussing the correct way to prepare beans for the president's dish.
Throughout presidential food history, many presidents had favorite dishes they consistently asked for during their terms, such as President Thomas Jefferson's mac n' cheese and President Franklin D. Roosevelt's pig's foot fever. "He loved them so much that he would serve them at White House dinner's for entertainment," said Miller.
The night ended with Miller hosting other local Nashville chefs on the virtual event to share a dish they created, inspired by a given president. Each chef put a unique twist on a dish they felt resembled their president's food interests. Starting off the round, Chef Rhonda Commons, owner of Barseat and Perfectly Cordial, created a mocktail inspired by John F. Kennedy.
Chef Charles Hunter III, a personal chef and food blogger, is the owner of The Salted Table in Nashville and created a crostini with a cheese spread as inspiration from President Benjamin Harrison's term. Following him, Chef Lisa Donovan shared her oyster stew created in honor of President Lincoln.
Owner of Rolf & Daughters and Folk in Nashville, Chef Philip Krajeck had President Jimmy Carter and created fall braised greens. Chef Julia Sullivan from Henrietta Red of Nashville had President Lyndon B. Johnson which led her to make a fresh salad off of her restaurant's old menu. The chef's round finished with Chef Lokelani Alabanza of Saturated Ice Cream created a unique ice cream dessert inspired by President Thomas Jefferson.
To watch the series and learn more about the recipes from each local Nashville chef, click here. To learn more about Adrian Miller or purchase one of his books, visit his website.