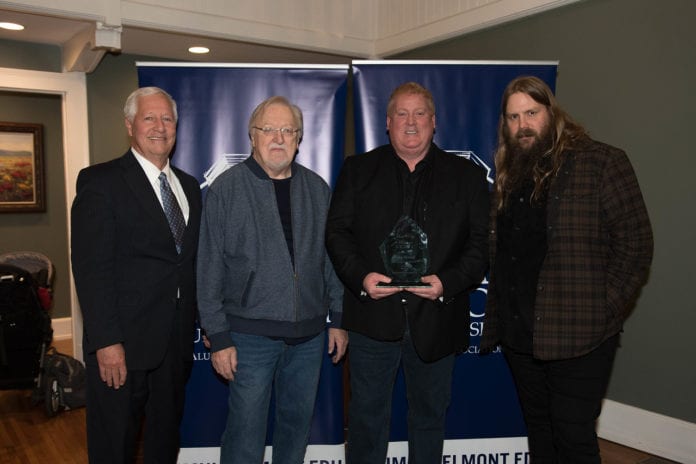 Belmont University's Mike Curb College of Entertainment and Music Business, alongside industry partner American Society of Composers, Authors and Publishers (ASCAP), recently honored alumnus Mike Sistad as the latest recipient of the Music City Milestone Award (MCMA).
"The Music City Milestone Award celebrates the connection of ASCAP at one end of Music Row and Belmont University at the other," explained Belmont Music Business Instructor Dan Keen. "It's very gratifying to honor Belmont alumni who have distinguished themselves on the executive side of the music business!"
Joining ASCAP's Nashville Membership team as creative director in 2001, Sistad was promoted in June to vice president at ASCAP and still leads its Nashville Membership team. Sistad has been an integral member of ASCAP's Membership group for more than eighteen years and has nurtured and signed some of the organization's top talent, including Chris Stapleton, Kelsea Ballerini, Old Dominion, Brothers Osborne, Carly Pearce and more.
Sistad said, "I am proud to be a part of the Belmont family and honored to receive this year's Music City Milestone Award. I have been fortunate to be a part of the Nashville music community since graduating from Belmont and this was a wonderful event to thank my family, friends and mentors for their support over the years."
In addition to attendance from publishing executives and friends, CMA, ACM, Billboard and Grammy Award winning recording artist Chris Stapleton surprised Sistad at the award event in his honor. Keen said, "I remember Chris saying that Mike was one of the first people he met in Nashville and that he played a key role in launching and sustaining his career."
A Belmont University graduate, Sistad has held many roles, including a stint with legendary Muscle Shoals producer and musician Barry Beckett, an A&R executive position with Arista Records Nashville, and band member for two-time ASCAP Country Songwriter/Artist of the Year Phil Vassar. Originally from Minnesota, Sistad has worked on both the creative and business sides of the music industry. As a musician, he has performed across most of North America, including stops at the Houston Rodeo and Calgary Stampede, as well as radio and television performances including "A Prairie Home Companion" and the Grand Ole Opry. Sistad has previously served as both a board governor and chapter advisor for the Nashville Chapter of the Recording Academy, in addition to being a CMA and ACM member and Leadership Music alumnus.
Previous Music City Milestone Award recipients include Cyndi Forman, Beka Tischker, Ben Vaughn, Ashley Gorley, Connie Harrington, Rusty Gaston, LeAnn Phelan and Carla Wallace.