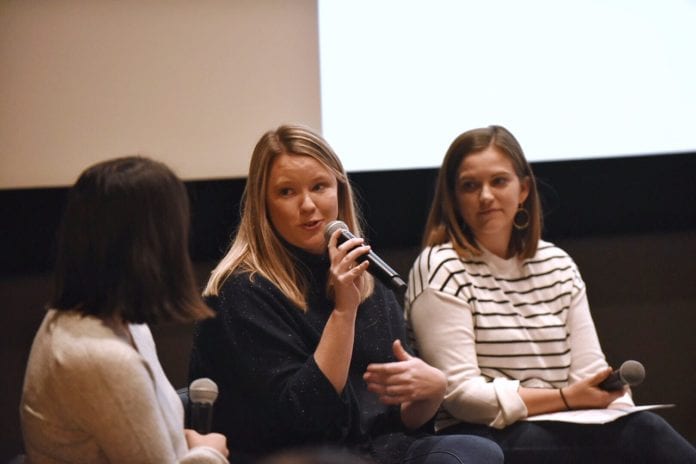 Two representatives from Flood, Bumstead, McCready & McCarthy Entertainment Business Management recently spoke with Belmont students at a Curb College seminar titled "Artists in the Streaming Age – How Do They Get Paid?"
Belmont alumnae Adrien Good, associate business manager, and Erica Rosa, royalty manager, presented the basics of money flow in the modern music industry. The goal was to illustrate the exact journey a song takes to turn from melodies in a consumer's ear into millions of dollars in the pockets of artists and songwriters.
The presentation began with an introduction of the various roles a business manager plays: educator, accountant and even armchair psychologist. Everyone, Good shared, has a history with money before entering the FBMM offices. As such, a great deal of the work they do focuses on better understanding the often-flawed relationship artists have with money and spending.
"If you're thinking of going into business management, it's something that isn't just pigeonholed into accounting. It really is a wide area," Good shared.
Following the introduction of their duties at FBMM, Good and Rosa began introducing the fundamentals of understanding money flows in music. They covered concepts from the basic different copyrights found within a recorded song and the various types of royalties paid to artists and songwriters, to the differences of payment processes between interactive and non-interactive streaming. The duo also provided a great walk-through of how Spotify pays out artists, a relatively new and complex process.
This seminar served as a great example of the supplementary educational opportunities offered to students at Belmont. Additionally, it allowed students studying disciplines outside of Curb College with an interest in the mechanics of the music industry an opportunity to learn.