Hit songwriter and alumnus Brett McLaughlin (professionally known as Leland) returned to Belmont this week to share insight on his journey from his alma mater to profound success as a hit songwriter in Los Angeles, California. He graduated from Belmont's School of Music in 2009 with a major in commercial voice.
McLaughlin is the writer of songs such as "My, My, My!", "YOUTH" and others recorded by Troye Sivan, "Fetish" the Platinum single recorded by Selena Gomez, and Kelsea Ballerini's #1 country single "Miss Me More." He was awarded an ASCAP Country Award for Ballerini's "Miss Me More" on November 11.  In 2018, he received a Golden Globe nomination for Best Song: "Revelation," in the film "Boy Erased," as well as an Emmy Award for his music in RuPaul's Drag Race. For his achievement in the field of commercial music, McLaughlin was also presented with the 2018 Curtain Call Award.
McLaughlin spoke to Belmont's music publishing students about the realities, challenges and rewards of a songwriting career and his spiritual quest towards artistic authenticity.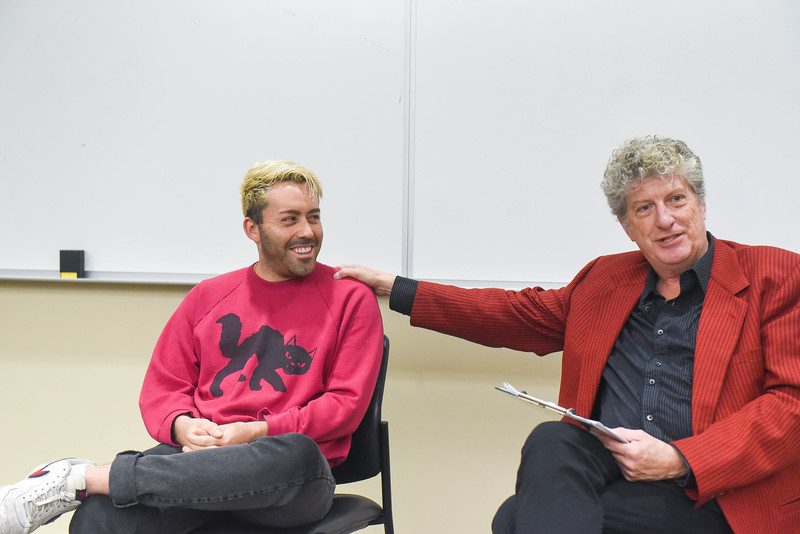 His mentor at Belmont, Professor Dan Keen, introduced McLaughlin saying, "This guy did a spectacular showcase in the first semester of his freshman year with a 13-piece horn band! You knew then that he had game."
In just eight years, McLaughlin has compiled a long list of accomplishments and received numerous awards for his achievements in the music industry. He's won the ASCAP Pop Songwriting Award, the National Music Publishers Association Award and was included in Billboard's 100 Best Pop Songs of 2016.