Luke Putney, presidential scholar and summa cum laude graduate in Music Performance, visited Belmont's campus once again to share his story of overcoming medical challenges to pursue his musical passions while making a difference in the lives of others through his nonprofit, Instrumental Horizons.
With humor and heart, Putney shared his journey with students. He explained that he began going blind at 11 years old and had his first brain surgery at just 12 years old. Through the years he continued to experience various medical problems. By the time he began his freshman year at Belmont, he was totally blind.
"Blind, but having fun!" Putney said. Despite these adversities, he had a college experience similar to many of his Belmont peers, with opportunities to make new friends, play bass in numerous bands, and study abroad in Spain.
In his senior year at Belmont, Putney started his not-for-profit charity Instrumental Horizons. His nonprofit provides music education and music instruments to socioeconomic depressed groups in the states and around the world, as well as provides music instruments and music therapy to children in hospital systems. The work of this organization has reached marginalized communities locally in Nashville, through partnerships with Vanderbilt Children's Hospital, and globally, through partnerships with Music Works in Cape Town, South Africa.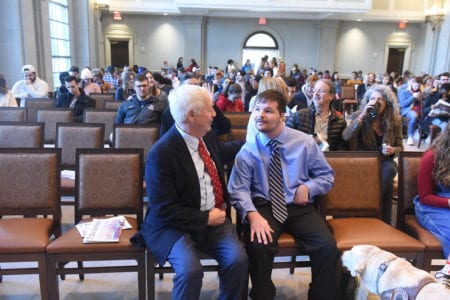 Soon after his first international trip with his nonprofit following his graduation, Putney experienced what he thought was a migraine, but soon learned was a tumor on his brain. After having surgery to remove the tumor, he had many complications including a stroke and coma, and went through another eight surgeries to save his life.
Patients in recovery in the ICU were encouraged to set goals for themselves. "I chose my goal to be taking instruments and pushing music therapy to a small town in Cape Town, South Africa," said Putney.
He set out to accomplish his goal. Putney was told he would never be able to walk again, but miraculously, he began taking a few steps. He thought if he could walk a few steps, he could walk a mile and if he could walk a mile, he could walk a marathon. He then set out to walk a marathon, one mile a day for 26 days, during his recovery as he was re-learning to walk and as an opportunity to fundraise for his nonprofit, specifically funding Music Works in Cape Town.
"I wrote 'Cape Town (I Miss Africa)' as a song that would be a reward to anyone that made a donation," said Putney. Putney plans to take a trip to Cape Town soon to present Music Works with the funds raised.
"I believe that God desires that we all use our passions, talents and interests to further God's kingdom in unique ways, and I try to do that to the best of my abilities," Putney said. His current medical situation is complicated, but is slowly getting better with each day. His prayer is to ask God to strengthen his body to be a blessing to others and to strengthen God's kingdom.