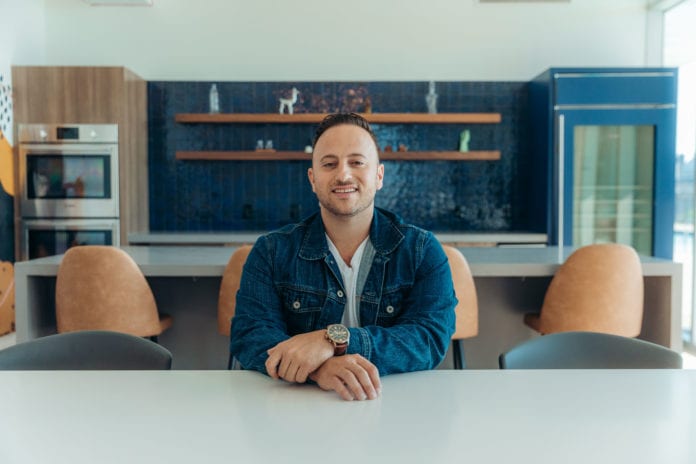 Belmont alumnus Johnny Cloherty is finding success with his Nashville-based music tech startup Songfluencer. Founded in 2018, Songfluencer uses data-driven technology to earn music success on TikTok. The proprietary app pairs songs with hand-picked social media influencers in Songfluencer's network, who then create compelling content that exposes these songs to millions of followers, with the goal of generating click-throughs to digital streaming providers such as Spotify, Apple Music and other platforms. Songfluencer's recent feature in Rolling Stone highlights the data-driven strategies that have launched success for artists.
Cloherty graduated from Belmont in 2013 with a major in creative and entertainment industries (formerly known as entertainment industries studies) and a minor in music business. During his time at Belmont he was a proud member of the leadership committee for Belmont's Showcase Series, serving as production manager of the Rock Showcase in 2012 and associate producer of the Best of the Best Showcase in 2013. He was also the music supervisor for Fall Follies 2013 and was a part of the pilot class for the Happy Together Tour with Mark Volman.
"Belmont was really a massive catalyst for me. Prior to coming to Belmont, I really had no idea what the entertainment industry was. Through interning and participating in extracurricular activities while attending Belmont, I learned so much about the depth of it and fell in love with the chaos of it all," Cloherty said.
After graduation, Cloherty's work revolved around digital innovation, social media and management. Through these experiences, he became fascinated with how digital marketing would continue to evolve and dominate conversations in entertainment. With a closer understanding of how marketing and promotion impacted fan acquisition, Cloherty realized that managers and labels desperately needed a service that helped execute influencer marketing campaigns for their artists. He decided to fulfill his entrepreneurial spirit and soon launched Songfluencer.
Songfluencer's mission is to promote music and breakout artists. The company has been fortunate to be a part of artist teams that helped more than 100 artists reach viral charts. Cloherty also has a passion for live entertainment and hopes to one day find the intersection of influencers and live entertainment, believing that Songfluencer has the potential to be a trailblazer in that space, as well.
"Belmont fosters a culture of creativity and out-of-the-box thinking that my company requires," Cloherty said. All of Songfluencer's full-time staff consists of Belmont alumni. Through working with these alumni and through his own personal experience, Cloherty recognizes the value of Belmont's education experience. Looking back on his college experience, Cloherty appreciates the emphasis professors and faculty, especially those in Curb College, placed on networking, extracurricular involvement and internships. He explained there is so much about the entertainment space that a student simply can't learn in a classroom.

To current students, Cloherty shared, "Those that know me know my number one rule is to break the rules! I think too often we follow paths that are comfortable, convenient or serve others' expectations of us. This is your life. Live it on your terms. Find out as early as you can what you want out of your career. Not 'what you want to be when you grow up,' but what you want. Maybe you can't make up your mind and be that specific. Then start placing an emphasis on discovering what you don't want. Then (pro tip here!) imagine where you want to be in 5, 10 or 20 years and make that plan. There are no boundaries or rules except the rules you bestow upon yourself. So, break the rules!"