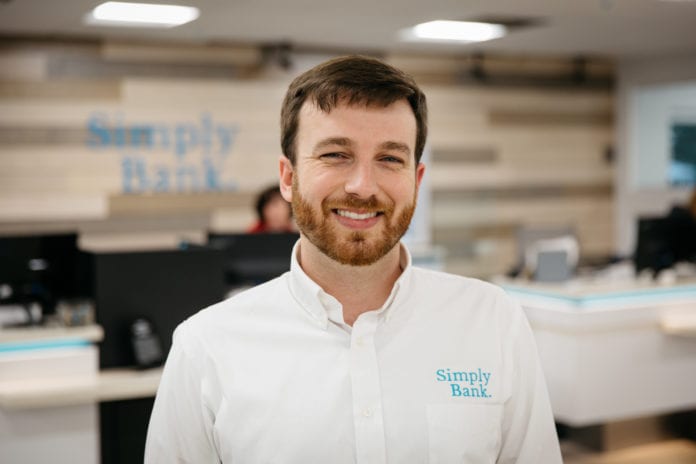 Blake Swafford, director of innovation at SimplyBank and Belmont 2010 alumnus, is a second-generation community banker. Earning the respect and recognition of some of the top minds in the business, Swafford was named earlier this year to the Independent Community Bankers of America's second annual 40 Under 40 list of emerging community bankers for 2020.
Nominated by the bank's top leadership, Swafford said it is a badge of honor for himself and the teams he works alongside and supports. "I was honored to simply be nominated by my peers for this list, and I was humbled and ecstatic when I learned the team at ICBA chose me as one of this year's recipients," said Swafford. "Our country's community banks are crucial to the people and places we serve, and it's incredibly meaningful to be recognized by some of the top leaders in this industry for the work we're doing at SimplyBank."
This year marks the second annual edition of the ICBA 40 Under 40 list, which spotlights young professionals in community banking from around the United States. According to the ICBA, candidates are identified and chosen based on four primary criteria:
Character
Leadership
Community Involvement
Innovation
Swafford, who graduated from Belmont in 2010 with a Bachelor of Arts in History, is tasked with thinking the organization into the future, while keeping the pulse of consumer and competitor trends. His work is often behind-the-scenes and crucial to the customer experience, manifest in a positive customer experience or an online function that works right and works well.
Swafford was a natural nominee for the list, according to John Owen, president and CEO at SimplyBank. "Blake is one of the most innovative people with whom I've ever worked," Owen said. "He grew up around banking, he knows what it takes to be successful in this business, and he understands that growth and innovation are key to community banking's future and staying power."
And in the midst of unprecedented social distancing measures due to COVID-19, SimplyBank increasingly depends on Swafford's area of expertise. Once wish list items, bank-from-anywhere tools and services are now must-haves.
"He knows what our customers want and need from us, but also what tools make it easier for our team members to meet those wants and needs," Owen said.
It was e-signature software which helped SimplyBank secure and process more than $15.5 million in Paycheck Protection Program loans, helping 225 locally-owned business nail down relief funds to keep their businesses afloat amidst the mandatory shutdown for non-essential businesses.
These are the challenges that keep Swafford motivated to keep hunting for the next right thing. "We don't have to live on the bleeding edge of technology to keep up with the major players in banking," he said. "We just need our people to understand that new tools are important, that new tools can make our jobs faster and easier and that new tools are what our customers expect from us in the digital age."
Bank technology services provider FIS, of Jacksonville, Fla., sponsored this year's program. "From CEOs to compliance officers, branch managers, lenders and marketers, this annual award continues to uncover extraordinary talent within the community banking industry," ICBA President and CEO Rebeca Romero Rainey said. "We congratulate Blake
on this well-deserved honor. His deep belief in the community bank business model and passion for supporting his customers and communities, especially in this COVID-19 environment where community bankers continue to step up to serve the needs of customers, should be commended."
Read more about the ICBA 40 Under 40 online here. Find out more about SimplyBank at www.mysimplybank.com.