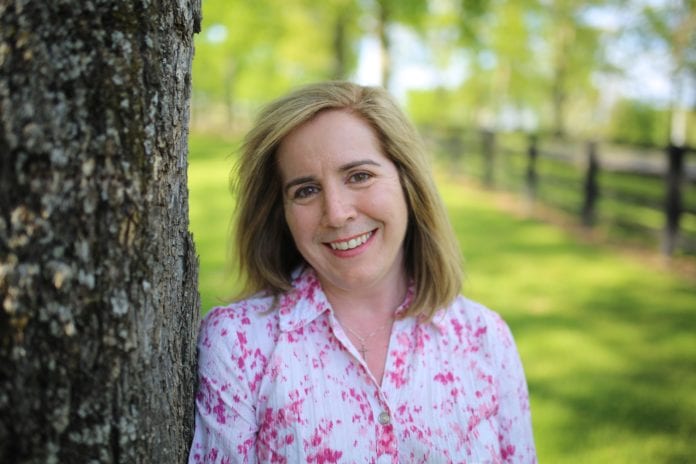 Belmont alumna Stacy Spencer believes a purpose-filled life and career always involves people, relationships and helping others. This is not only her advice to young people looking for direction, but a personal life mantra. 16 years ago, Spencer and her husband Bill co-founded a nonprofit called Narrow Gate Foundation that has helped more than 435 young men through its residential discipleship program.
Located on 122-acres of Tennessee countryside – filled with miniature donkeys, a huge barn, several artisan shops and a bold mission to follow Christ—the 10,000 square foot Narrow Gate Lodge hosts young men between the ages of 18-25 for an eight-month experience of deep relationship, hard work, apprenticeship and study of God's word, with start dates every two months. Some of the men are struggling with one thing or another, some are taking a gap year, and some are just looking for their next step. All the young men are seeking life transformation, working to answer the question, "What is the purpose for my life?"
Of course, Narrow Gate has a website and social media pages, but Spencer said the main way young men come to the Lodge is through word of mouth. The program offers a desirable chance to pause, slow down and consider – a necessary moment of reflection when young men don't want to go to college, aren't sure if they need to go to college or are hesitant to jump right into what society tells them is next.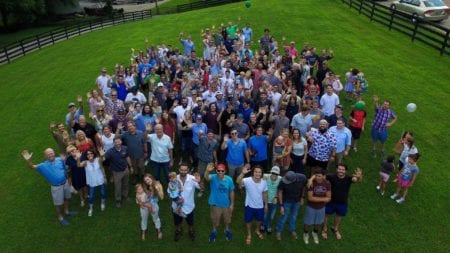 And after the program, many go on to do much more. In fact, 80 percent of Narrow Gate graduates, if they have some college experience, go back and finish their college degree.
"The most rewarding thing is to watch the long-term effect that Christ is having on these young men as they walk out their faith," Spencer explained. "It's getting to be a part of their lives for years and years and watching the ripple effects they are having and will continue to have in their local communities, churches and in their families. We get to be part of their marriages, weddings, families, children being born or starting their own business or ministry. That's what I look forward to."
It all started with Spencer's testimony in becoming a Christian. Although she was not against Christianity while she was a student at Belmont, Spencer did not have a relationship with God and joked that she almost got kicked out of school because she did not want to go to Chapel. She graduated in 1990 with her degree in broadcast communications and was lucky to work in the male-dominated film and TV industry for the next decade doing what her degree had prepared to do.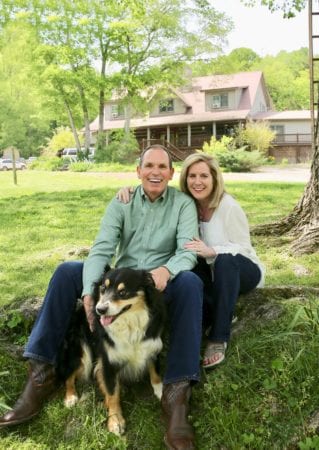 One night in 2002, a client invited her and her husband to dinner at his church, and although hesitant, they agreed. Spencer said she had a very close encounter with God in a real and personal way that night, and her life was forever changed. A couple months later, she was baptized and became an active church member who wanted to know more about Jesus, God and "what He thought about a girl like me."
"Looking back now, I see that God's grace was abundant towards me in so many different ways. It's because of the seeds that were planted at Belmont and others in my life that on that night, God was able to change my heart in a way that transformed me and changed the trajectory of my life," Spencer said.
Spencer and her husband began serving in the homeless ministry through their church and got to know one of the men after a dinner one night who was singing a hymn with the lyrics, "I don't know what the future holds, I don't know about today. But I know who holds my hand and I know who leads the way…. For the Lord is good to me; he's never failed me yet." Spencer thought, "How can you say the Lord has never failed you?" and the Lord caused her heart to beat. The Spencers were deeply moved and wondered how they could use all that God had blessed them with to provide a better life for the man. They moved him into their home for a few months and ultimately helped him fulfill his desire to get an education and become a preacher.
Not too much longer, the Spencers invited two other 19-year-old men to come and live with them as they worked though addiction and feeling lost. Those young men followed the Spencers' example and gave their lives to Christ. Word spread. Other parents began asking if their sons could meet with the Spencers, and by the end of that year, there were seven young men living in the couple's three bed, two bath house.
"I realized that God has given me the ability to impact someone's life and change the trajectory of their life by loving them and believing in them—not crazy ideas, but just allowing God to use me. My husband and I were growing in our love for these young men and our passion to be a part of their lives," Spencer said. "It was obvious that God was doing something supernatural in our midst. We sat down and decided to do it full time, and that's how we became executive directors of a nonprofit organization, even though we had no experience in the nonprofit sector and no training. We had been entrepreneurs our whole life. But, that was how Narrow Gate got started in 2004."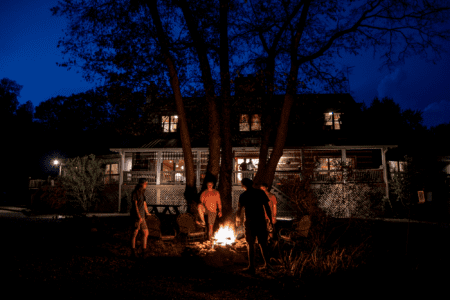 Narrow Gate was started as a way for young men to come spend eight months of their life where they put down their cell phones and social media and get into intimate, real relationships with others as they learn what it means to understand God's word, hear the voice of God and how to disciple others.
The Spencers ditched their small house and moved onto the current Leatherwood Forge property which historically housed black smiths and wood workers. The Tennessee Association of Woodturners, an instrumental partner in helping develop artisan education as part of the Narrow Gate experience, has brought volunteers to the property for eight years that teach the residents how to do woodturning.
In 2013, through the gifts of generous partners, Narrow Gate Foundation launched Narrow Gate Trading Co., a wood and leather goods shop designed to employ Narrow Gate students and graduates – engaging them in business enterprise and craftsmanship. The company, run almost entirely by the young men from the program, has employed more than 40 Narrow Gate graduates and will earn $1 million in sales this year.
"Not only are the young men building the products, managing the process, managing the business and working with customers in our Franklin showroom, but every week they are getting business 101 and leadership development classes. Again, it's our goal to give them continuing education to prepare them for what is next in life," said Spencer. "We have great stories of young men who have worked at the trading company for a couple years and now they're reaching back out to us and telling us how we helped prepare them for success in the future job they're doing. It's amazing. It's so humbling."
One of their product lines, TN Box Beams, has become highly successful and has allowed them to tell their story on HGTV multiple times.
"It's a testimony to what these men are capable of if they'll put their hands to the task and they keep people first and they trust God. God has a plan that He is still unveiling for them," Spencer said. "I didn't meet Christ until I was 33. So, I see that they have such greater potential than I have because they are making a commitment to Christ at an earlier age. They're going to do greater things than my husband and I could ever do. At the end of my life, at the end of the day, when I close my eyes, that is what brings me peace and purpose; that is what inspires me every day to get up out of bed and go do it again."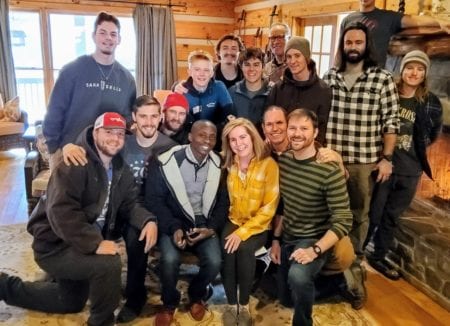 In 2018, Narrow Gate Foundation launched its newest initiative: Narrow Gate Exchange which started when Wood-Mizer Sawmills, the largest sawmill manufacturer in the world, called and asked if they could bring international students to the campus to train them in sawmilling, wood working and business. Of course, the Spencers wanted to join forces in sending well-equipped young men back out into the world to make a difference. Through partnerships with groups like the Samaritan's Purse, vetted international students come spend 90 days on campus for training, business development and Christian discipleship. Wood-Mizer sends a complete sawmill kit with the students when they return to their home countries so they may start their own business.
Davis Muairewe, a young man from Uganda, finished the exchange program last year and has returned to grow his business in Uganda. He has hired seven employees and has secured a contract to build 100 school desks for the government in Uganda. Spencer said, "Because we were able to provide for him, he can now make a quality product and knows how to sell and manufacture it. He is now able to provide employment for seven other Ugandans in his community. Isn't that amazing?"
Spencer said it brought her great joy and honor to share her story with Belmont because she wants the faculty and staff to know that what they are doing matters and not to give up hope in the generations they are ministering to.
"Do not grow weary in doing good for in due season, you will reap a harvest. And I'm part of that harvest – it took a due season, but I am part of it! And not just me—the Narrow Gate ministry is part of Belmont's harvest. They are part of my story, so this is part of Belmont's story, also," she said. "All these young men may never come to Belmont, but they are being impacted by Belmont because I was able to go and get the education and the spiritual training I needed, even though I wasn't applying it at the time. God doesn't waste any of that."
Spencer said if you ever take your eyes off the people, you'll lose the purpose. "God's business here on Earth is about people—about individuals and communities. It doesn't matter what career path you choose, you have to keep in mind that your number one priority is either the people you work with, the people who purchase your products or the people you serve. To actually care about them, not just as co-workers, but as image-bearers of God. The Imago Dei – these are God's children. For me, that's the best advice that I would give."