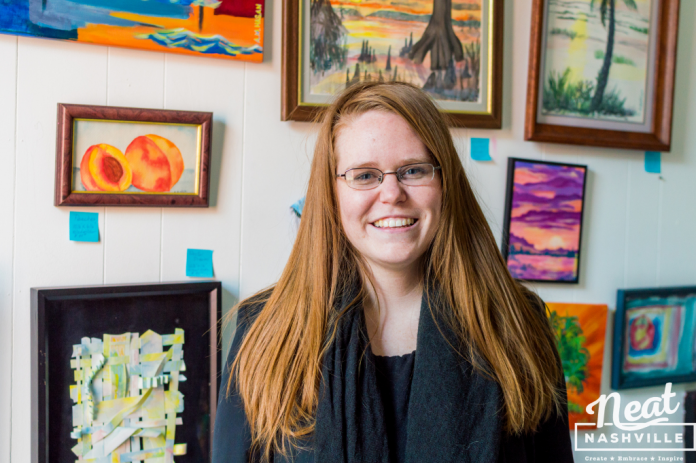 Belmont alumna Nicole Brandt Minyard, class of 2014, is on the official list of nominees for the 2019 East Nashvillian of the Year. Members of the Historic East Nashville Merchants Association will vote from the list of nominees selected by the East Nashville community. Voting will end on December 5 at 11 p.m. CST.
Minyard was nominated for her work with Poverty and the Arts, a social enterprise nonprofit she founded as a student at Belmont. 
The East Nashvillian writes, "Poverty and the Arts Gallery has developed relationships with area galleries and businesses to display artists' work. They developed an online store to ensure maximum exposure and income earning potential for their artists. Nicole has been the driving force behind the success of the business, as she works tirelessly to be everything from CEO to marketing to personally hanging art at shows. Through the Center for Non-Profit Leadership, she continues to build a unique set of skills to achieve success. For those that utilize POVA and for those that support it, it is truly a haven and a represents the true East Nashville: where creativity and community are united."
Other nominees include business owners Manuel Delgado, owner of Delgado Guitars, Christian Paro, commercial developer, Alex Hulsey of Encircle Acupuncture, formerly known as East Nashville Community Acupuncture, Melanie Cochran, owner of The Wild Cow & Graze, Anaconda Vintage. Citizen nominees include Marilyn Greer, Eric Hoke and Anthony Viglietti. The full list of nominees can be found HERE.
About Poverty and the Arts
Located on Dickerson Pike in East Nashville, Poverty and the Arts (POVA) is a social enterprise nonprofit that equips people impacted by homelessness with the artistic resources, training and marketplace to overcome barriers to employment by leveraging their creative talent to earn meaningful income and foster community.