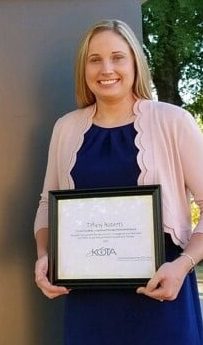 Alumna Tiffany Roberts, an occupational therapist with Baptist Health System Kentucky and Indiana, has been named Occupational Therapist of the Year by the Kentucky Occupational Therapy Association (KOTA).
Roberts is the KOTA Western District co-chair, serving the Paducah area.
Roberts has worked at Baptist Health Rehabilitation since 2016, following her graduation from Belmont with a master's degree in occupational therapy.
She is a Certified Brain Injury Specialist through the Brain Injury Association of America, and recently began helping with a new Spinal Cord Injury support group.