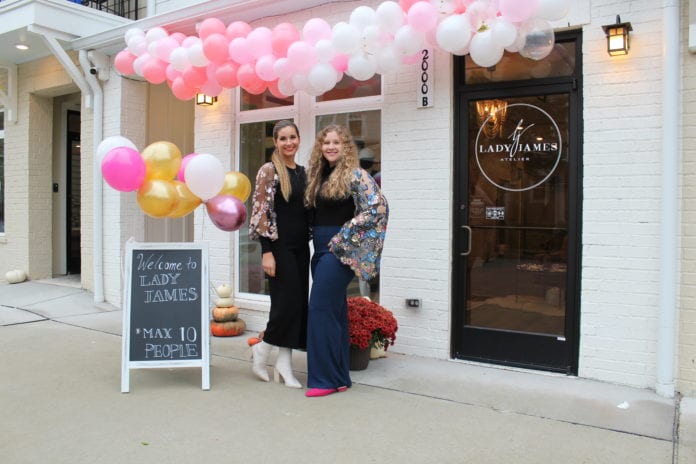 2018 Fashion Design alumna Emily James has wanted to be a fashion designer with her own storefront business for as long as she can remember. After graduating with her degree from O'More College of Architecture and Design, she began chasing this dream through working, interning and designing until her career flourished into a partnership with her sister, a marketing and business expert, to launch a new business venture: Lady James Atelier.
Lady James is a 100 percent female owned and operated company that is dedicated to empowering all women through fashion. A French term used to define a studio or space in which a designer works, James explained that each article of clothing is hand-sewn in house at their Atelier in Nolensville, Tennessee. "We marry non-conventional looks with timeless elegance to create the most unique designs," she said. "Our driving force, and the reason we do what we do, is to create beautiful clothes for beautiful women. We also offer the perfect tailored fit for all clothing. We give the option of not only custom women's wear but also a luxury tailoring experience for both men's and women's alterations."
James describes her personal style as taking a classic, elegant look and making it edgy or sexy, and the same aesthetic is carried through her Lady James brand. She said, "My designs merge daring silhouettes with ultra-feminine details and fabrics."
Her style and aesthetic have caught on. Besides accomplishing her goal of opening a storefront, she has also reached another major milestone when her custom design found its way to the CMT Red Carpet in Nashville. Stylecaster even included her design as number seven in their article "Every Can't Miss Look from the 2019 CMT Awards Red Carpet." "This was a huge achievement for me as a designer," James shared. "Seeing my design ranked among the top looks on stars like Carrie Underwood, Maren Morris and Carly Pearce was such a huge compliment."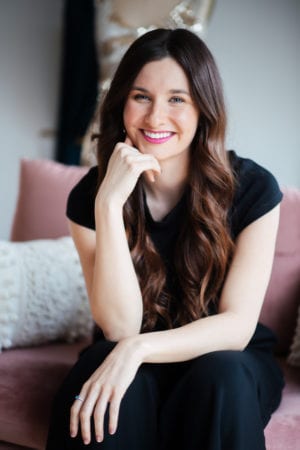 Her designs have come a long way since receiving her first sewing machine for her tenth birthday and creating clothes for her Barbie dolls. Although she fell in love with the intricacy and beautiful details of evening, bridal and red carpet wear at a young age and carried a sketchbook in hand everywhere she went, she didn't receive an official sewing lesson until she enrolled at O'More College of Design. She explained, "I was blessed with talented instructors like Kevin Crouch who taught me all about the beautiful art of sewing and design. It was at O'More that I got to really explore what direction I wanted to go in the design world."
She fell more and more in love with celebrity and evening wear and sought out an internship with highly renowned NYC designer Cristina Ottaviano, whose designs grace most of New York's biggest red carpets. After a successful summer internship in NYC with Ottaviano and graduation, James worked for a year with an expert tailor in Nashville as she grew into the city's country music industry. While working full-time as a personal assistant to Aaron McGill at Only One Tailoring, meeting many celebrity artists and dozens of country music stars, James was still working on designs of her own. She juggled two jobs for a year and a half before going full-time with her custom women's wear design work and luxury tailoring and eventually starting the partnership with her sister.
"It was the perfect match and the beginning of a new business venture," James said. "We were blessed with many opportunities leading to our Lady James atelier opening in October of this year. We are still learning how to navigate not only a new business, but a pandemic nonetheless. It takes lots of hard work and dedication, but we couldn't be happier with the ability to finally make our entrepreneurial dreams a reality!"
James hopes to grow more into the country music industry and one day be the "go-to designer" for women's custom red carpet and luxury wear in Nashville. She and her sister plan to eventually open another storefront in downtown Nashville. While the duo gain their bearings as two new entrepreneurs, James said she is thankful for her family's support, the experiences she gained with Ottaviano and McGill, and for the instructors at O'More, namely Crouch.
James said perseverance, passion and networking are key to starting and running a business. "Many people will tell you, 'No,' 'You're too young,' or even, 'You're not good enough,' but you have to believe in yourself and your business," she said. "No one will believe in you like you do. Ultimately, don't quit dreaming!"