The successful implementation of the virtual 2020 Belmont Student Leadership Awards is just one of the many ways the Belmont community continues to work together to demonstrate its commitment to inclusion, highlight exemplary leadership and provide access to leadership development for all students. Recognizing the efforts of student leaders and staff across campus who have demonstrated exemplary leadership, the virtual event took place through the Belmont Today and Belmont University Instagram accounts all day on April 15.
Thirty-three of Belmont's offices, centers, departments and all academic colleges participated in nominating 90 student leaders from across campus for various awards.
Associate Dean of Students and Director of Leadership Development Dr. AdriAnne Sternberg said this collaborative effort further proves that leadership is everyone's business. "No one knew all of the challenges we'd face but charging forward with this event online has helped us be grateful for the past, gives inspiration for the work we are all doing now and hope for future leaders who will come through our doors," she said. "With or without a leadership position, the nominees and winners of this year's event have all displayed resilience, one of BOLD's core leadership competencies, in the brightest way."
Last year's Campus-Wide Student Leadership Awards were a huge success with 225 students present on campus celebrating one another's achievements. Sternberg said this year was even more of a success that "brought out the best in each of us." The BSLA committee worked relentlessly to provide the best virtual award event possible. In just the first two hours alone, more than 2,000 viewers tuned into the online event to recognize the best that Belmont has to offer.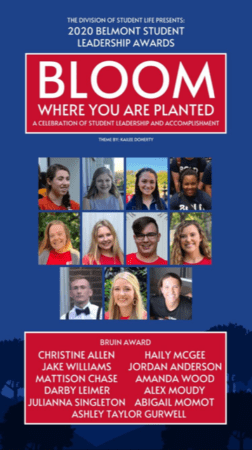 Sternberg added, "And while we could not physically give hugs and high fives to one another at the end of the awards, we were able to like, share and re-post Belmont transformational leadership stories and accomplishments with the entire world."
The 2020 Awards are listed below.
Bruin Award:
Christine Allen
Jake Williams
Mattison Chase
Darby Leimer
Julianna Singleton
Haily McGee
Jordan Anderson
Amanda Wood
Alex Moudy
Abigail Momot
Ashley Taylor Gurwell
Tower Award: Dave Jaeger
Emergent Leader Award:
Amando Jimenez
Peter Geoly
Antoinedra Maupin
Maggie Youngs
Geno Ceasario
Aspiring Leader Award:
Vianney Muniz
Molly Suess
Claire Mitchell
Ashley Wearren
Phoebe Connell
Greek President of the Year: Meghan Skinner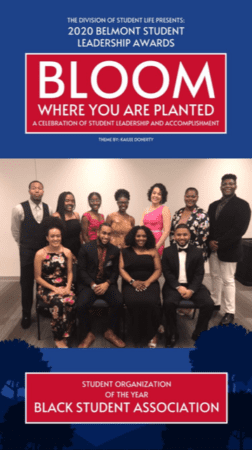 Chapter of the Year: Alpha Sigma Tau
Greeks of the Year: Ben Rogers and Kailey Shannon
Student Organization Advisor of the Year: Sue Iliff
Outstanding New Student Organization of the Year: Kite Club
Student Organization of the Year: Black Student Association
Student Organization Members of the Year:
Lexi Campbell – Delight Ministries
Andre Delaney – Black Student Association
Benjamin Carter – Best Buddies Belmont
Danny Deforest – Belmont Enactus
Harrison Brown – Club Tennis
Michael Schultz – Belmont Hiking
Megan Huggins – Alpha Psi Omega
Taylor Gerson – Alpha Sigma Tau
Landry Slaughter – Bruin Recruiters
Renee Ramirez – Collegiate DECA
Sarah McKenzie – Panhellenic Association
Donte Holiday – Black Student Association
Alex Miller – Student Athlete Advisory Committee
Carlee Nanney – Student Athlete Advisory Committee
Kortney Schardt – Fellowship of Christian Athletes
Residence Life Distinguished Service Awards:
Sydney Stanton
Macy Schreiber
Amanda Wood
Julianna Singleton
Maia Paterno
Kate Rutledge
Taylor Leek
Sammy Henehan
Jordan Anderson
Office of Career and Professional Development Professionalism: Margaret Hovis and Erin Lawrence
Office of Career and Professional Development Indispensable Workers:
Samaria Mena
Ray Aley
Jamie Emerick
Katy Gjovig
Addie Smith
Ashley Sawyers
Madison Flick
Molly Reinold
University Ministries Longevity: Will Smith
Interdisciplinary Studies and Global Education Student Leadership Award: Victoria Berry
Admissions Student Worker of the Year: Brendan Marz
College of Theology and Christian Ministry Faculty Achievement Award: Colby Brandt
O'More College of Architecture and Design Student Leadership Award: Sydni Claunch
Curb College Student Leadership Award: Thomas Rowles
College of Music and Performing Arts Student Leadership Award: Colin Felter
College of Law Student Leadership Award: Shelby Lomax
College of Pharmacy Student Leadership Award: Travis Holmes
College of Health Sciences and Nursing Student Leadership Award: Jacey Walker
Jack C. Massey College of Business Student Leadership Award: Kia Street