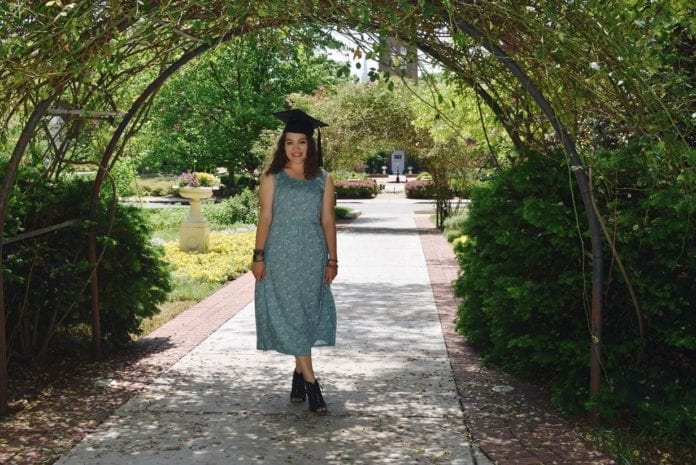 Belmont alumna Brooke Small was recently awarded a Fulbright program grant for overseas teaching in Cyprus. The Fulbright U.S. Student Program is an international exchange program sponsored by the U.S. government that provides competitive grants to graduating seniors and graduate students to serve as cultural ambassadors of the United States abroad.
Belmont Provost Dr. Thomas Burns said, "The selection process for identifying Fulbright scholars is extremely rigorous and selects only those applicants that will be both exceptional ambassadors and strong advocates for collaborative work. We are so proud of Brooke's work and share her excitement for being selected for this prestigious national award which recognize our country's best and brightest. I am confident Brooke will represent the United States and Belmont University well in her international placement – she possesses remarkable intellect, passion and commitment to service. It is such a joy to see our graduates fulfilling Belmont's mission to empower students 'to engage with and transform the world.'"
Small, from Littlestown, Pennsylvania, graduated from Belmont in May 2018 with a major in communication studies and a minor in photography. During her time at Belmont, Small invested her time as a volunteer tutor for organizations like World Relief and Nations Ministry Center. She was inducted in to the Alpha Chi National Honor Society and the Lambda Pi Eta Communication Studies Honor Society.
She also enjoyed a study abroad trip to Africa her junior year. "That experience confirmed for me that not only do I want to live and work abroad, but that a life of service is very possible through programs such as the Fulbright," Small said.
While in Nashville for the last year and a half, Small was an AmeriCorps member serving with Nations Ministry Center where she taught English to refugee children, while also serving as the Volunteer Coordinator for after-school programs. When her AmeriCorps service ended in July, she then became a member of Nations Ministry Center's staff, where she currently continues her same work. Her long-term goal is to teach around the world as a Peace Corps volunteer, as well as get her Master of Education to become a social justice educator. "As a first-generation college graduate, I'm deeply aware that quality education can propel you into a future you didn't think possible. I hope to give back by teaching the next generation of dream chasers attending under resourced schools in America and abroad."
With her Fulbright Award, Small will be teaching English in Cyprus, an island country in the Eastern Mediterranean. Along with her role as an ESL teacher in Cypriot public schools, she plans to volunteer with community centers serving the refugee community, in accordance with safety precautions for COVID-19. Due to COVID-19's impact on international travel, her grant has been rescheduled for January 2021-June 2021.
"As a child growing up in a small, rural Pennsylvania town I didn't realize that ordinary people could live out extraordinary dreams all while hopefully contributing to the greater good. My time at Belmont opened my eyes to the vast opportunities available. I was continuously motivated by my advisor, Suzanne Lindsey, who always believed in me amidst my own moments of doubt and encouraged my goal of serving abroad. As a teacher, I hope to be the cheerleader for my students that my advisor was for me," she said. "The Fulbright is the perfect opportunity for me to combine my love of teaching with my passion for representing the United States as a cultural ambassador."