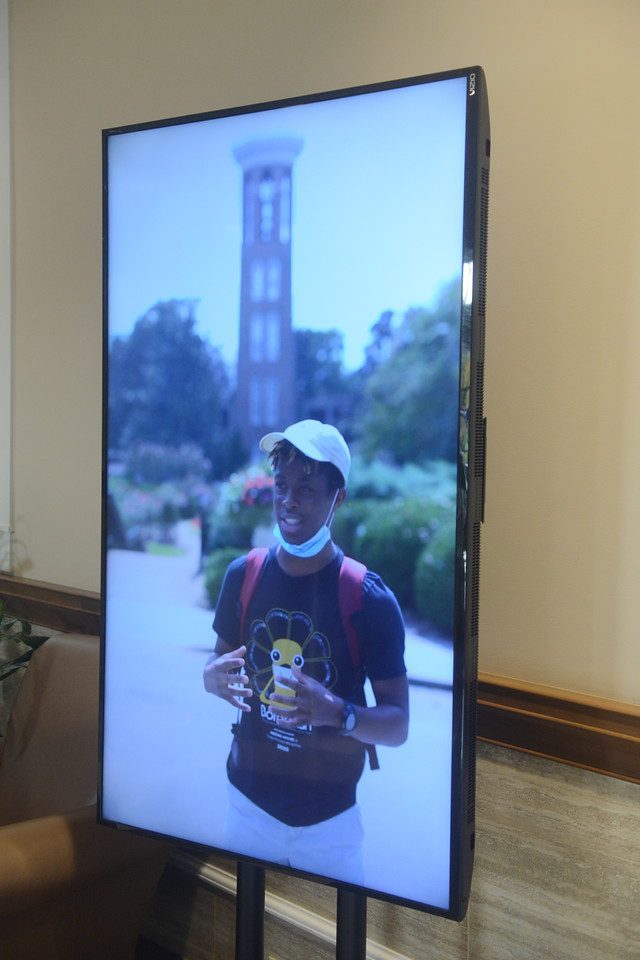 Vertically-mounted television screens allowed passersby to stop and hear about Belmont President Dr. Greg Jones's "Five Ways of Being" during the Presidential Inauguration celebration November 3 – 5, thanks to an interactive art display created by Watkins College of Art students. The digital kiosks showcased the overarching theme of "Hope" that Dr. Jones so highly values from the students' perspective.
Watkins College of Art Dean James Pierce assigned the project to his Experiential Design Studio I students and let them run with the idea on their own so the end result would be a true interpretation from and reflection of the student voice. The student artists included Abby Connolly, Emily Johnson, Natalie Krause, Nathan Marken, Grace Massey, Silas Mosley, Mary Beth Parkinson, Cooper Scobey and Belle Weaver.
Senior experiential design major Abby Connolly said, "The hope sculpture, dove mural and kiosk displays for me represented a really beautiful embodiment of Belmont: pieces of people's stories coming together and creating something deeply meaningful for the community."
Students split into two groups and brainstormed how best to represent the five pillars visually, with each of the five displays featuring one of the pillars – Hope Inspiring, Character Forming, Future Shaping, Community Engaging and Bridge Building – and allowing the community to have a new perspective and better understanding of the five ways of being that Dr. Jones wants the Belmont community to embody.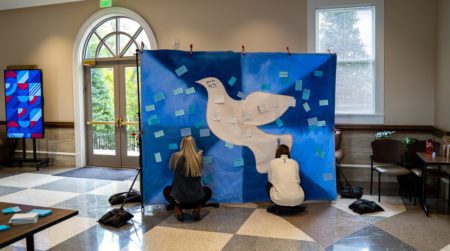 "It was my goal to weave a bit of entrepreneurial spirit into the project structure, while also discussing different approaches a design agency might use when creating a similar project in the real world," Pierce explained. "The students were very engaged and worked passionately throughout the project. I was very pleased to see what they created, and I think they were excited about the content as well."
Senior experiential design major Emily Johnson said her group was inspired by the new "Agents of Hope Mural" on campus and "by its message that we—as students—can use our voices to inspire the world around us." The students decided to focus on just that, grabbing their filming equipment and heading to the campus lawn to interview their fellow students. Catching students walking to and from their classes, the artists wanted to know what these themes truly meant to them as members of the Belmont community.
"It quickly became clear that these themes are constantly in motion at Belmont," said Johnson. "As I watched my teammates conduct the interviews, each student's passion for our community became contagious. Hearing each student speak about their own experiences at Belmont reminded me how truly special our campus is: Each response was full of selflessness, growth, inclusion and—above all—love for others, and that's what sets our campus apart from the rest."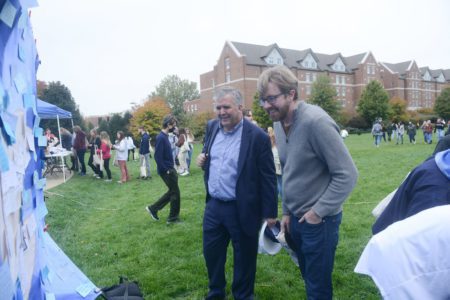 After the videos were filmed, the team took inspiration from the bold, vibrant patterns of the "Agents of Hope" mural and decided to include them in each kiosk's opening and closing animations. The students then used their own personal strengths – which ranged from filming to graphic design—to create final designs that they felt successfully represented the Belmont community.
Johnson said getting to see the kiosks in place was extremely rewarding after spending weeks pouring creativity, effort and time into making the videos.
"It meant the world to see students, faculty and staff taking the time to view them. I even walked past a group of students watching our videos when I heard one of them shout, 'Guys look, I made it!' It brought me joy to know that I had helped make his voice about our campus heard. After all, highlighting student voices was the biggest goal of our project, and it was so rewarding to see that goal become accomplished."