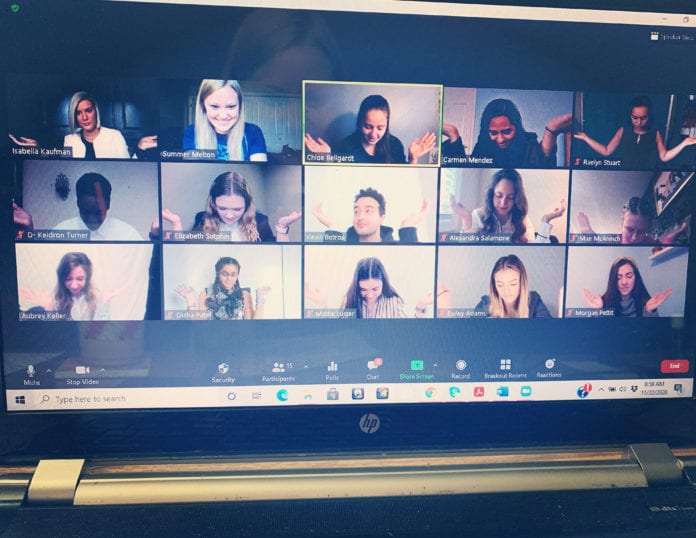 Belmont University's Undergraduate Mock Trial Team scored fourth best of 20 teams at the 2021 American Mock Trial Association (AMTA) Regional Competition held virtually in February. In its fifth year of competition, Belmont's team earned a bid to the Opening Round Championship Series Tournament March 20-21 where students will compete for a bid to the AMTA National Championship Tournament in April.
In addition to the team's victory, Aubrey Keller was named one of nine outstanding witnesses and Luke Worsham and Keidron Turner were named two of 12 outstanding attorneys.
The Undergraduate Mock Trial teams are coached by Adjunct Professor Summer Melton, a Belmont College of Law graduate and practicing attorney at McAngus, Goudelock, and Courier, LLC. Melton has been coaching Belmont's Undergraduate Mock Trial Teams for three years. This was the team's second year making it to the Opening Round Championship Series, which is the second round of the American Mock Trial Association's annual national tournament.
Melton, proud of the work and dedication her students put forth, described the success of Belmont's Mock Trial Teams. "The best way to describe our teams, the Beekeepers and the Bees, is through a quote from The Bee Movie: 'According to all known laws of aviation, there is no way a bee should be able to fly. The bee of course, flies anyway, because bees don't care what humans think is impossible.' The skills the students strive to learn and perfect are difficult and time consuming. But, with the right amount of faith, and a ton of hard work, we have continued to soar. I couldn't be more proud of each and every student and can't wait to watch them conquer again."

The Mock Trial team is a part of Belmont's student-led, undergradute Pre-Law Society. Team members who competed at regionals include Interdisciplinary Studies and Global Education students Bailey Adams (legal studies), Chloe Bellgardt (global leadership studies and sociology), Carmen Mendez (legal studies), Disha Patel (legal studies), Nardien Sadik (legal studies), Elizabeth Sutphin (global leadership studies and corporate communication); College of Sciences and Mathematics student Lillian Davidson (biochemistry and molecular biology); Curb College of Entertainment and Music Business student Cheyenne Robertson (music business); College of Music and Performing Arts student Raelyn Stuart (commercial voice); College of Liberal Arts and Social Sciences students Kevin Botros (philosophy and political science), Aubrey Keller (English), Isabella Kaufman (political science and history), Mattie Luster (English), Mae McAninch (English), Morgan Pettit (politics and public law), Keidron Turner (politics and public law) and Luke Worsham (communication studies).
AMTA serves as the governing body for intercollegiate mock trial competition. Through engaging in trial simulations in competition with teams from other institutions, students develop critical thinking and public speaking skills, as well as a knowledge of legal practices and procedures. AMTA sponsors regional and national-level competitions, as well as providing interesting and complex case materials for academic use.