Campus celebrates 283 veterans, military family members currently enrolled with Veterans Week activities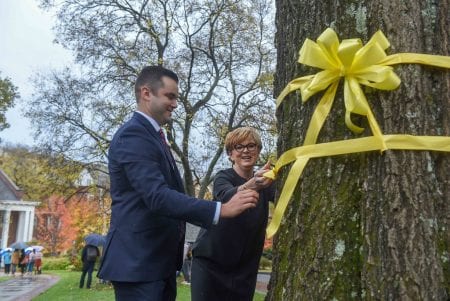 In its 2019 review of America's Best Colleges, U.S. News & World Report declared Belmont University the No. 4 institution in the South in its rankings of the "Best Colleges for Veterans." Belmont was also ranked No. 165 out of 1,820 schools nationally for veteran friendliness of all colleges and universities reviewed by College Factual. This means Belmont is in the top 10 percent of all schools in the country in the Best for Vets category.
For Fall 2018, Belmont enrolled 163 veterans and 120 military family members for a total of 283 students in a variety of undergraduate and graduate programs. A Yellow Ribbon program participant since 2010, Belmont offers a number of resources to support student veterans and military family members, including the Bruin Vets Center, a dedicated space for meetings and camaraderie, and the Veterans Success Team, staff members devoted to assisting with benefit coordination, campus transition and career readiness.
Robbie Tyrney, an economics student and president of Belmont's Bruin Vet student organization, said, "As a student veteran, I cannot say enough about the commitment Belmont University has made towards the academic and professional success of our student veterans. From the unlimited Yellow Ribbon benefits to a fully staffed Veteran Success Team, Belmont has given hundreds of veterans the tools to excel at one of the top universities in the country. Much like traditional students, our veterans are attracted to Belmont due to small class sizes, access to world-class professors and a unique culture right in the heart of Nashville."
In her role as associate provost for interdisciplinary studies and global education, Dr. Mimi Bernard oversees Belmont's programs for veterans and military families. She said, "Belmont University is committed to student veterans and their families. We've been a Yellow Ribbon school from the beginning, and we participate at the highest level. Additionally, the support of the State of Tennessee through the Veterans Reconnect grant enabled us to work across the institution to identify opportunities to better support these students. We now have the Veterans Success Team; a growing Student Veterans of America chapter, the Bruin Vets; and the Bruin Vets Center, where students are able to gather, build community, have a cup of coffee and study."
Beyond campus resources and systems designed specifically to support veterans and military family members, Belmont also partners with other programs in the area for veteran programming. For several years, the University has worked with local nonprofit Operation Song to bring Nashville songwriters to campus to aid student veterans in putting their stories to music.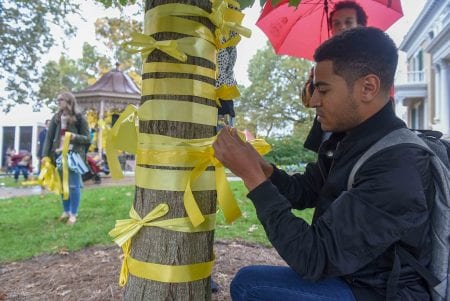 In addition, to commemorate the Nov. 11 Veterans Day, Belmont celebrated Veterans Week 2018 with a number of activities and events designed to remember and honor the contributions of the University's veteran students, faculty, staff and families. The week's official kick-off event Nov. 7 provided members of the Belmont community an opportunity to tie a yellow ribbon on trees in front of the Belmont Mansion in honor of Belmont's student veterans or others who have served around the world. Vice President for Institutional Effectiveness Dr. Paula Gill and President of Bruin Vets Robbie Tyrney also shared remarks. Additionally, Bruin Vets offered participants the chance to write a letter to military members overseas during the event. Click here for more information about Belmont's programs and resources for active duty military service members, veterans, spouses and families.