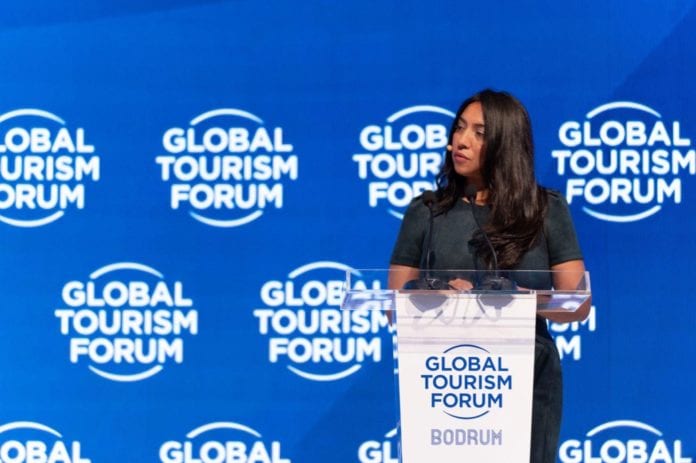 Esteemed travel journalist and travel expert Jeannette Ceja, Belmont alumna, was featured as the master of ceremony and as a moderator at the Global Tourism Forum in Bodrum Summit on June 10-12, 2021. The conference took place at the ultra-luxurious Voyage Göltürkbükü Hotel in Bodrum, Turkey.
The Global Tourism Forum in Bodrum Summit featured an incredible lineup of international in-person attendees and speakers including Ahmet Aras – mayor of Bodrum, Nadir Alpaslan – deputy minister of culture and tourism in the Republic of Turkey, and Dr. Taleb Rifai – secretary-general of the World Tourism Forum Institute (WTFI). 
Highly respected virtual speakers also included Tony Blair – former prime minister of the United Kingdom (1997-2007), David Sassoli – president of the European Parliament, and Eduardo Santander – executive director and CEO of the European Travel Commission.

Along with panels focusing on Russia, Africa and other significant international destinations, an emphasis of the conference was the future and immediate state of tourism in Turkey. The country is currently open for American tourists and it was recently announced that its curfew is expected to end on July 1, 2021. Prior to the start of the forum, Ceja enjoyed time in Istanbul, visiting the iconic Hagia Sophia, and exploring the unmatched landscape of Cappadocia, riding horses and hot air ballooning.
As travel restrictions continue to ease in Turkey, the forum also discussed how Bodrum is an ideal destination for a post-pandemic visit. It offers unmatched local and luxury experiences, from visiting the historic Bodrum Castle, five-star hotels to yachting in the stunning blue waters of the Aegean Sea and enjoying incredible local cuisine.
About Jeannette Ceja
Jeannette Ceja is an award-winning bilingual travel journalist, TV Host, travel advisor and global public speaker. She has appeared on BBC World News, WTTW Chicago, ABC7 Los Angeles, FOX 11 Los Angeles, Mexico Travel Channel, Spectrum News 1, KUSI News and many more media outlets around the world. Last year, Ceja was a speaker at The Women Economic Forum in Cairo, Egypt. Her speech was on Re-imagining Diversity and Culture. While in Cairo, Ceja received the award: Iconic Women Creating a Better World for All. In 2008, she graduated with a Bachelor's Degree in Journalism from Belmont University. The following year, Ceja completed the Professional Producing Program at the University of California, Los Angeles.