Ranked a Top 25 Program for 2019 by the Princeton Review and Entrepreneur Magazine, the Thomas F. Cone Center for Entrepreneurship held an inaugural recognition event on October 10 for the Top 100 graduates who have helped the Center receive its highly-regarded reputation.
Out of the Top 100 graduates honored, 71 alumni were able to be present for the event, given that the majority of the honorees run their businesses out of Nashville. Including co-founders, 117 alumni were honored within the 100 businesses. Overall, Belmont entrepreneurs represent more than 500 businesses in 74 cities and five countries. The honorees studied 26 different majors while at Belmont, and, with a focus on business for a purpose, the majority are still in business 5-10 years later.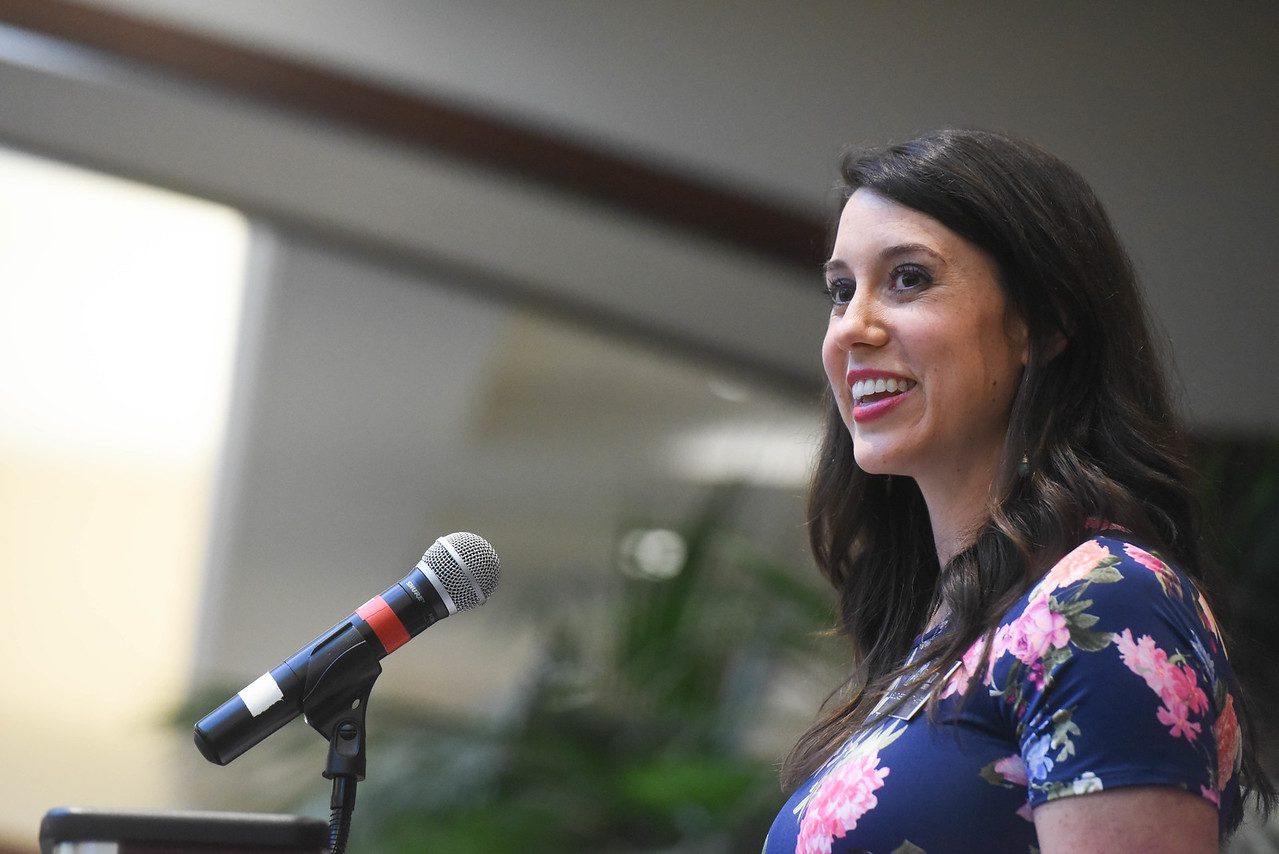 Director of the Center for Entrepreneurship Elizabeth Gortmaker thanked the attendees for being a part of the first awards event. "With the Belmont Entrepreneur Awards, we are thrilled to recognize the hard work you've put into making your dream a reality. Building a successful business is no small feat," she said. "Your drive and commitment have made you an innovative industry leader, created opportunities for others and enhanced the world around you. Congratulations on your success. I look forward to seeing what your future holds."
Approximately ten entrepreneurs were recognized in ten categories through a video produced by Pack Films, founded by 2012 video production alumnus Matt Horvath. LMA Designs provided decorations, started by 2007 music business alumna Lauren Marie Atkinson, and HiFi Media Co. provided the photo booth, started by 2014 music business alumnus Matt Self.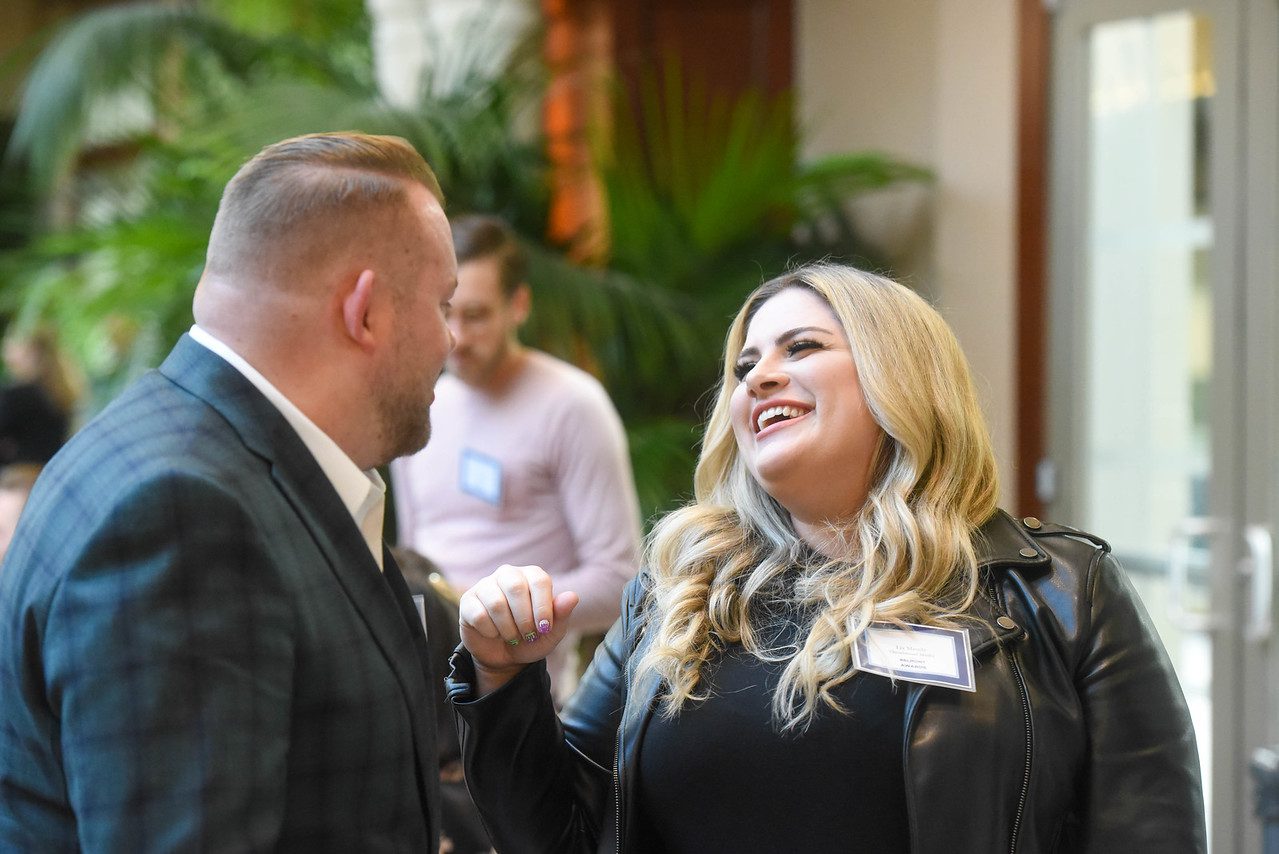 Owners of EVAmore, class of 2016 alumnae Channing Moreland (songwriting) and Makenzie Stokel (music business and entrepreneurship), not only booked the entertainment for the event, but also shared their story of starting EVAmore from the ground up, thanks in part to the resources provided by the Center.
As Belmont freshmen, Stokel and Moreland began putting on events for friends and wanted to grow it into something more. They eventually decided to put their entertainment booking idea into a technology-based platform. Friday nights were spent on the phone with developers in India in the basement of their freshman dorm. A contract was eventually signed in Belmont's library.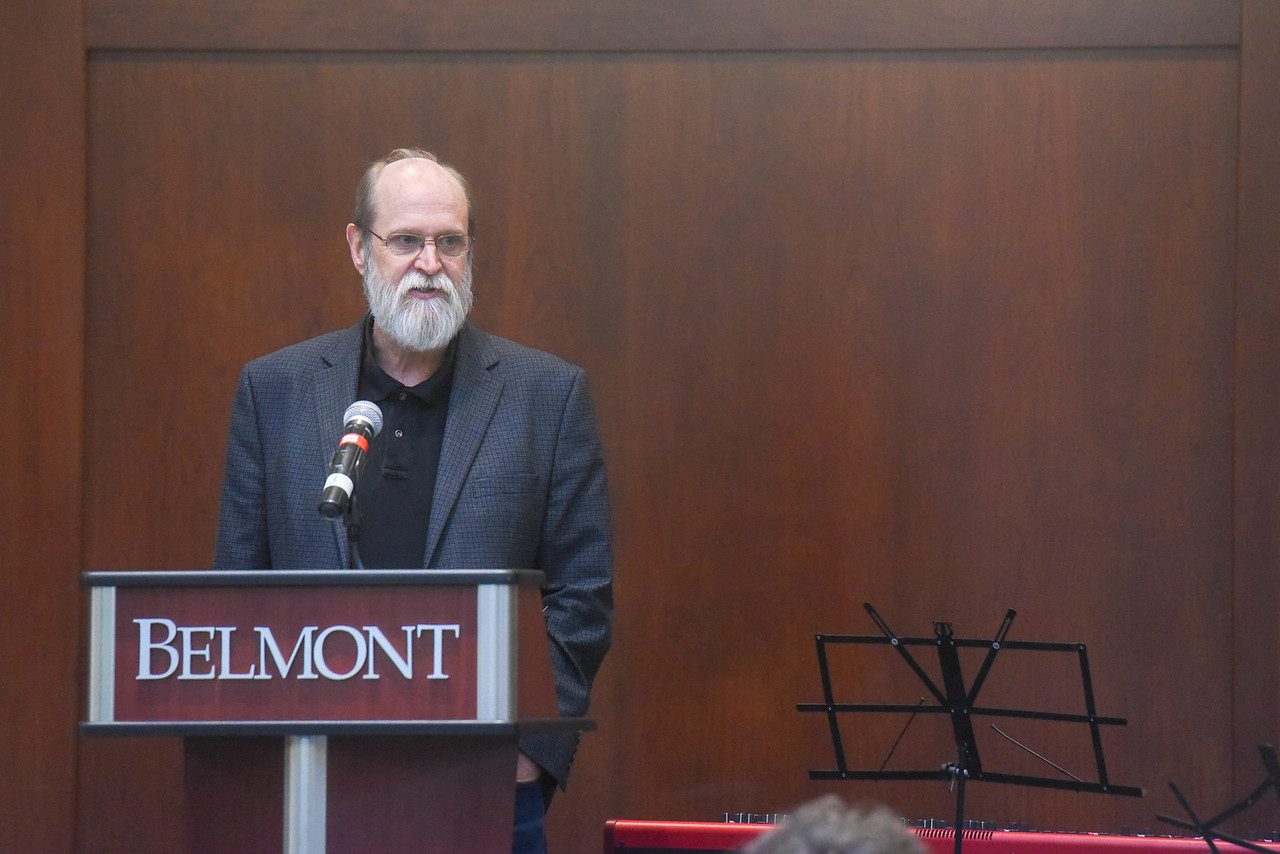 The duo tried to get involved in every opportunity that came their way, such as the Center's business plan competition. They credit winning that competition and the valuable feedback they received through it with helping them launch EVAmore. By their senior year, they won the Young Entrepreneurs of the Year Award and were well on their way to success following graduation.
"Belmont prepared us for the countless pivots we had to make," said Moreland. "We get asked all the time 'why did we do it?' It's because it's what we love the most. We hope we can inspire others to do what they love the most, as well."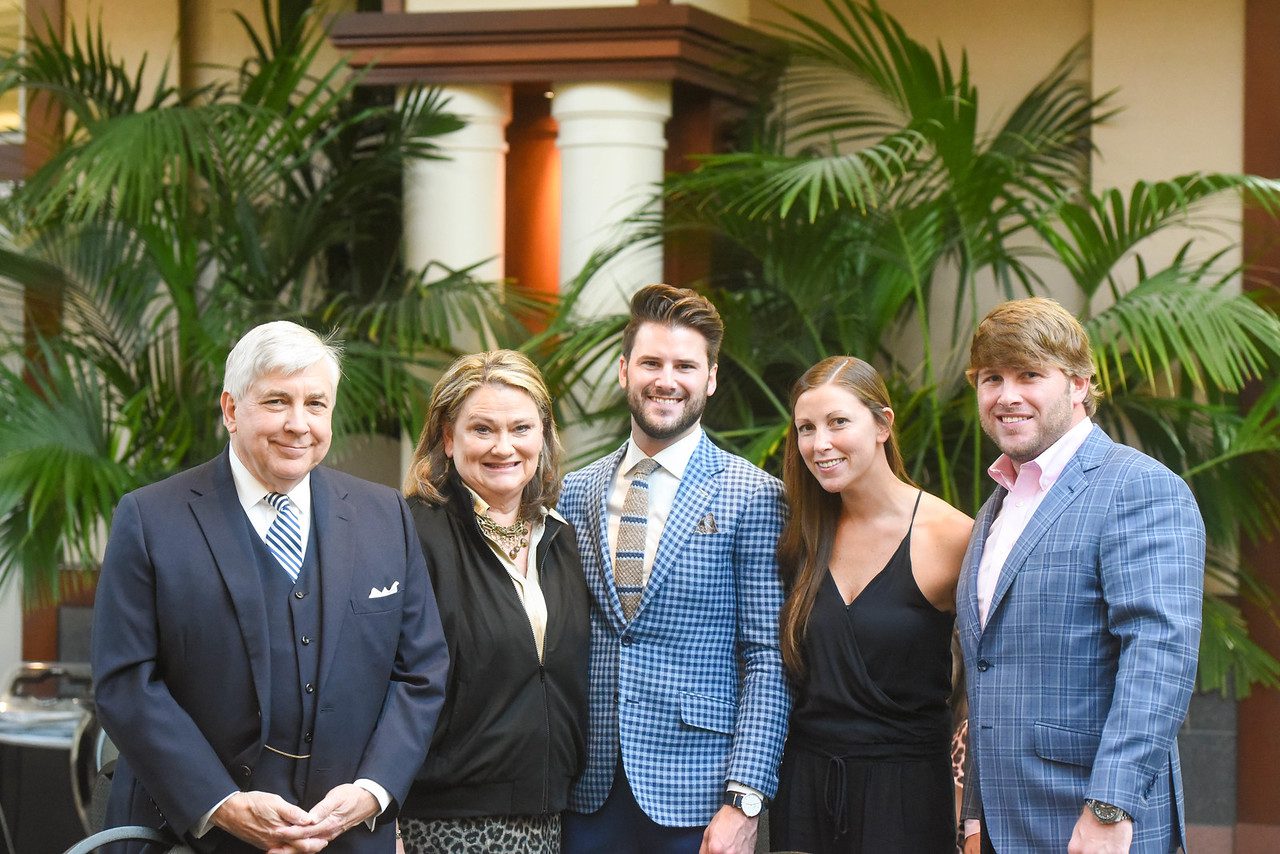 The shared understanding of the ups-and-downs of small business ownership is what united everyone in attendance. The goal for the event was not only to build Belmont pride and promote the Center, but to connect the many passionate business founders who have so much in common, specifically their Belmont roots.
Stokel closed the keynote saying, "Neither one of us expected to start a business at Belmont, but we were so inspired by the support here that we decided to take our idea and run with it. As entrepreneurs here tonight, we all understand each other. We understand what it takes. It's one of the best communities to be a part of."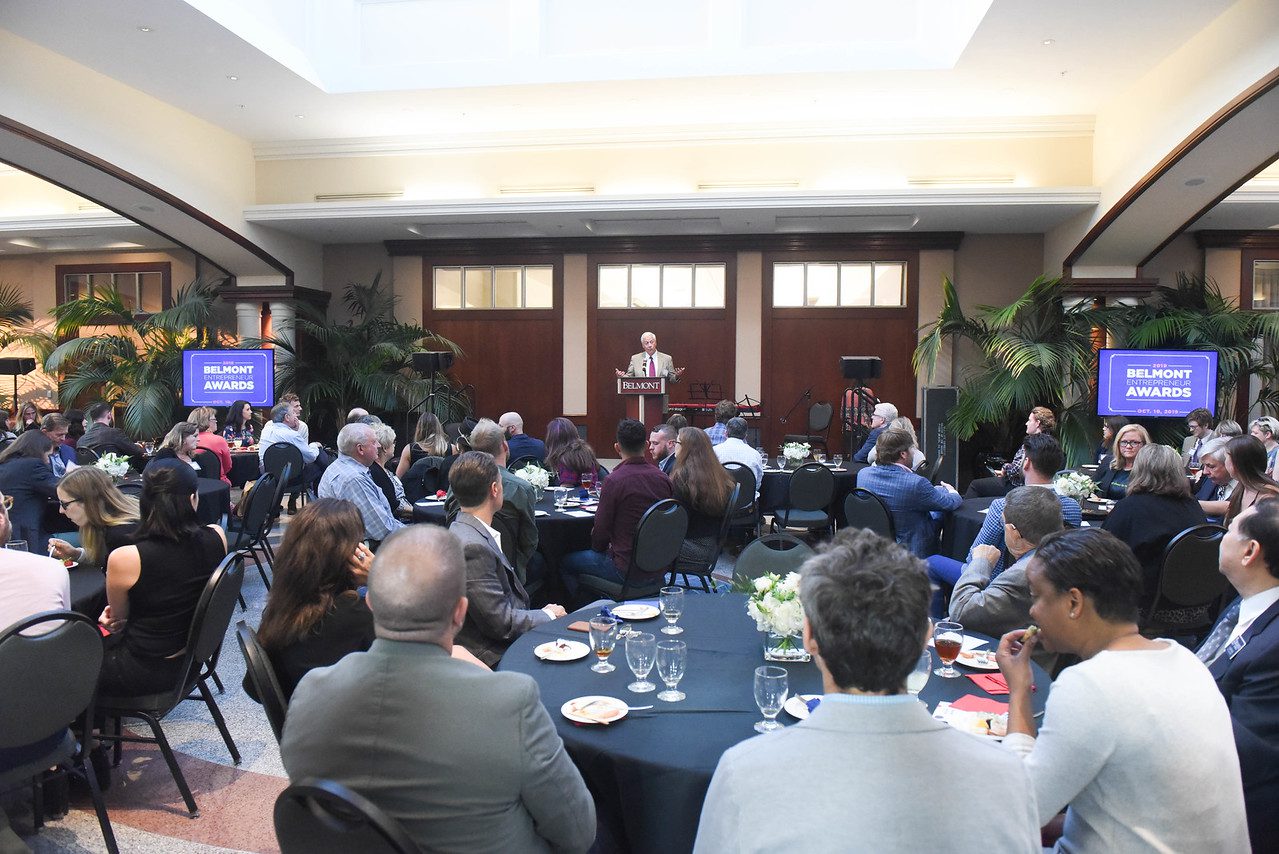 That community and a gut feeling is what drew the Center's first director, Entrepreneurship Professor Dr. Jeff Cornwall, to Nashville in 2003. "Logic should have taken me elsewhere. If I had done any of the things we teach our students like being as analytical and realistic as possible, I wouldn't be here," he laughed. "But I was so excited in what I saw in Nashville, just budding with potential. Everyone here was excited to help us make this program come to life, and they did. Elizabeth has also come along and brought stability. She has created a program that will be here for years to come."
Belmont President Dr. Bob Fisher acknowledged the leadership that has brought the program to great heights and congratulated the entrepreneurs for all of their many successes. "There's enthusiasm in what you do. There has to be enthusiasm to go along with those creative ideas, and I hope tonight you'll get to be around the enthusiasm of others and take it with you," he said. "And when you're down or feeling discouraged, cheer each other on and know that here at Belmont we are cheering for you, too."
View the booklet of all the honorees here and watch the video produced by Pack Films here. A photo gallery of the event can be viewed here.