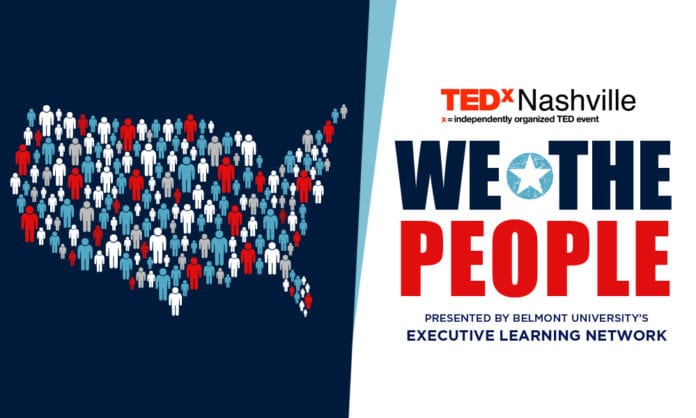 In light of Nashville and Belmont University hosting the Oct. 22, 2020 presidential debate, TEDxNashville is partnering with the University to present an evening of talks to explore the privilege of the vote, the process of democracy, and what it really means to be "We the People." Scheduled to stream live from 7-9 p.m. Central on Thursday, September 17, the event will feature six speakers representing diverse perspectives and topics. The event is presented by Belmont University's Executive Learning Network, a group of more than 325 business executives who seek to learn from one another and industry experts.
Belmont's Director of External Relations and Executive Learning Networks Jill Robinson said the group is proud to sponsor the TEDxNashville "We The People" event in September. "TEDxNashville's 'ideas worth spreading' tagline aligns with the mission of our executive leadership group – learning alongside each other to spur on new ideas that move our organizations forward," she said. "These dedicated executives set aside time each month to learn from each other and national level speakers for personal growth and growth of their companies. We're excited about participating in 'We The People' and helping bring this program to the greater Belmont and Nashville community."
Executive Director at TEDxNashville Kaleigh Imbriale said, "Just as Belmont's Executive Learning Network brings together Nashville's thought leaders, movers and shakers, and innovators, TEDxNashville's audience also has that same fire and passion for learning and expanding their minds. For us, it's a natural fit that we should come together and partner with our area universities, and we are thrilled that the Presidential Debate has given us the opportunity to join forces with Belmont University for a special TEDxNashville event, centered around the theme of democracy."
Broadcast live from Belmont's Massey Performing Arts Center, TEDxNashville's "We the People" is one of a number of programs being offered as part of Belmont's "Ideas of America" debate programming. Belmont students, faculty and staff will be provided free streaming access to the event, and community members may purchase a $10 ticket via EventBrite to virtually attend with all proceeds supporting TEDxNashville (a 501(c)3 organization).
The "We the People" event promises to dig into topics including civil engagement in a time of divisiveness, using our differences as our strengths, the impact of a new era of media and more. Featured speakers and topics to include the following, among others:
Jad Abumrad, creator of Podcast Radiolab: "How Dolly Parton Led Me to an Epiphany"
Blake Simpson, senior vice president of global communications, philanthropy and events at Under Armour, Inc., speaking on the changing news media and its impact on our democracy
David Plazas, opinion and engagement director for USA Today Network Tennessee, on adult conversations – how to start them and keep them going
For a full list of speakers and more information about the event, visit tedxnashville.com.
Due to the impact of COVID-19 on public gatherings, Belmont pivoted its planned Debate 2020 campus-wide programming to create virtual events, many of which can be enjoyed by both students and the community at large. Details on all events can be found on the Events page of BelmontDebate2020.com.
About TEDxNashville
In the spirit of ideas worth spreading, TEDxNashville is a program of local, self-organized events that bring people together to share a TED-like experience. At a TEDxNashville event, TEDTalks video and live speakers combine to spark deep discussion and connection in a small group. These local, self-organized events are branded TEDx, where x = independently organized TED event. The TED Conference provides general guidance for the TEDxNashville program, but individual TEDx events are self-organized.