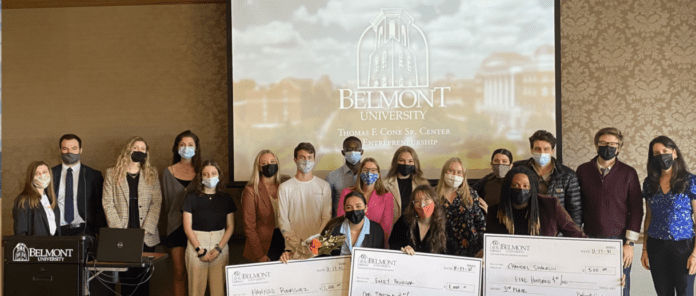 On Wednesday November 17, Belmont students had the opportunity to compete in the Thomas F. Cone Sr. Center for Entrepreneurship's Business Pitch Competition. The winners of this year's competition are Hannah Rodriguez and Emily Heneger in first and second place respectively, with Chandel Shanklin and Penny Kapadoukakis tying for third. The pitch competition helps bring students' business dreams to life by allowing them to give a one-minute, shark-tank style business pitch to a panel of four judges with the first place winner receiving $2,000, second place receiving $1,000 and third place receiving $500. Each of the winning students plans on using the prize money to help grow their business.
First place winner Hannah Rodriguez wants to invest in help garnering a larger audience for her workbook planner company, "Dream Achieve." Although Dream Achieve has some success on an international level, Rodriguez wants to showcase her product in the Atlanta trade show to help the product gain more traction.
In second place, Emily Henegar impressed the judges with her already-established designer cookie business, "Cookie in the Kitchen." Post-graduation Henegar hopes to expand her business and will use the prize money to purchase new commercial machinery to make better quality products.
Chandel Shanklin took on of the third place positions for his business "Dream Camp Media," which aims to enhance outdated arts education. Shanklin plans on using the money he won to promote his education plan at various educational trade shows.
Penny Kapadoukakis took home the other third place position for Local Music Hub, which is an app that serves as a hub for users to find everything about their favorite or soon-to-be new favorite local artists in Nashville. With Local Music Connect, users can find their music linked on all platforms, all local house shows and venue concerts, and follow and learn more about new artists from their area.
This year's judges included the three alumni Entrepreneurs-In-Residence Ryan Residorf, Meredith Mazie, Matt Fiedler and alumnus entrepreneur Clark Buckner. Following the student's one-minute presentation, the judges had one minute to ask the students questions regarding their businesses. Thirteen students pitched to the judges on business ideas ranging from electric cars to redefining arts education. All of the businesses pitched were focused on making more sustainable products as well as products that positively impact the community around them.
The business pitch competition held is a precursor to the larger business pitch competition that will be held in March. The Thomas F Cone Sr. Center for Entrepreneurship aims to help all student entrepreneurs regardless of major to exceed in their business plans. Learn more about the center on the Cone Center website.