The School of Music recently awarded their annual Curtain Call Award to commercial music alumni and Grammy winners Alvin Love III (2007) and Dwan Hill (2008), who co-wrote "Never Have to Be Alone" for former Belmont trustee and 2019 Christmas at Belmont guest artist Cece Winans. The pair has gone on to achieve great success in the music industry since graduating from Belmont.
The track "Never Have to Be Alone" took home the 2018 Grammy Award for Best Gospel Performance/Song. Love also produced Winans's album "Let Them Fall in Love," which was awarded a 2018 Grammy for Best Gospel Album.
Hill also played piano for eight of the cuts on Christian artist Lauren Daigle's "Look Up Child" and was approached afterward to work on a new arrangement for her rendition of "Turn Your Eyes Upon Jesus."
The School of Music presented Love and Hill with the award on January 22 in the Massey Performing Arts Center, followed by a concert performed by Love and Hill and Belmont musicians Nathan Dugger on guitar, Rich Brinsfield on bass and Marcus Hill on drums. Winans joined the duo on stage to perform "Never Have to Be Alone."
Each recipient told stories of their time at Belmont, explaining that the people they still call on to write with or work with in the studio are the people they knew from Belmont.
Hill and Love helped found the church Nashville Life and write worship music as part of the ministry. They were also joined on stage by the Nashville Life worship team and Mr. Talkbox to perform "My God."
Dean of the College of Music and Performing Arts Stephen Eaves said the Curtain Call Award was created in 1995 to honor commercial music alumni who are using the foundation they built at Belmont to impact the world. "Alvin and Dwan continue to exemplify Belmont's values through leadership, faith and excellent musicianship. They work with not only each other, but with other School of Music alumni to create inspiring music that impacts others," he said.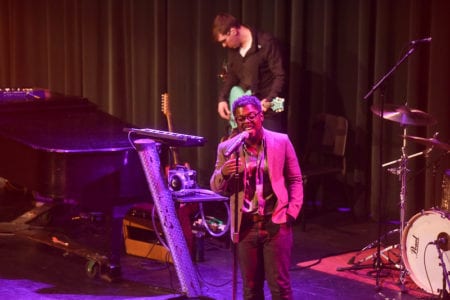 "From their Grammy winning co-write on 'Never Have to Be Alone' to Dwan's work on Lauren Daigle's arrangement of "Turn Your Eyes Upon Jesus" to their collaborations to create original worship music for Nashville Life Church and other churches, they are truly transforming the world. It was an honor to have Alvin and Dwan return to Massey Concert Hall to motivate and encourage our current students with their creative musical journey."
The Curtain Call Award has been awarded to alumni in a variety of fields in the music industry including songwriters, instrumentalists, vocalists and music industry leaders. Previous honorees include Melinda Doolittle, Josh Turner, Danny Wells, Akil Thompson and Tammy Rogers King.