It may have been sunny, but Belmont's SAPB (Student Activities Planning Board) wouldn't let the weather get in the way of their inaugural 'Welcome Back Winter Fest.'
On January 27, Belmont's Hitch Parking Lot was transformed into a winter wonderland, headlined by an ice rink, handcrafted Belmont-themed ice sculptures, snow machines, a photo booth and activities provided by various campus partners, including BUCS, GPS and University Ministries.
SAPB Advisor Chase Corey said the skating rink was the focal point of the event. "Who expected to see an ice skating rink on campus? We were ecstatic when we got confirmation that we could bring it to campus," he said. "We had over two-hundred students lace 'em up and skate throughout the day."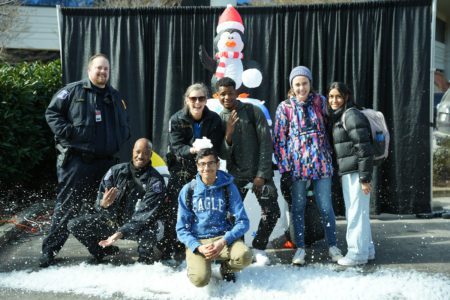 This was the first installment in what SAPB hopes will be an annual event. "We want Winter Fest to be something students circle on the calendar every year. We're grateful for so many of our campus partners' involvement and hope they aid us in making this event into one that grows in size and grandeur year-over-year," Corey added.
SAPB is involved in the planning of dozens of campus events, including Throwback Prom, Pumpkinpalooza and the end of year Block Party. The group is led and operated by Belmont students under the supervision of Laurel Hildner.