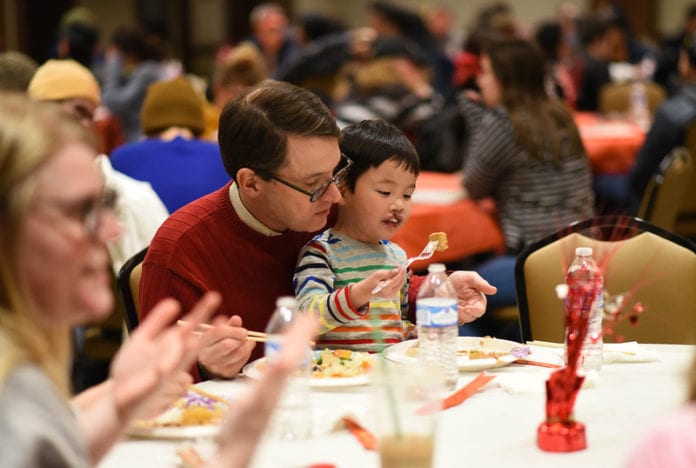 On the evening of January 21, Belmont's Chinese Cultural Association (CCA) hosted its annual Chinese New Year celebration to usher in the Year of the Rat. The event is historically well-attended, but this year's celebration boasted a record-breaking turnout including more than 120 students and faculty.
"The celebration proved to be a success, providing delicious food, an informative talk and a glimpse of Chinese New Year tradition and culture," said Dr. Qingiun (Joan) Li, associate professor of Asian studies and Chinese.
The night began with a complimentary dinner prepared by Evergreen Express Chinese Restaurant. The meal featured traditional foods such as dumplings, fried rice and shrimp. Following dinner, three CCA officers gave a presentation explaining the history, traditions, myths and practices surrounding Chinese New Year.
Luke McDonald, vice president of CCA, provided an overview of the holiday's origins and its global importance, noting the celebrations that take place in Beijing, Nashville and everywhere in between.
Alex DeBoer, treasurer of CCA, gave an exciting account of the Chinese zodiac legend, a story that explains the significance of the animals which represent each year.
Finally, Sav McNabb, social media director of CCA, led the crowd in singing "Xin Nian Hao 新年好," a popular New Year song, in its original Mandarin lyrics.