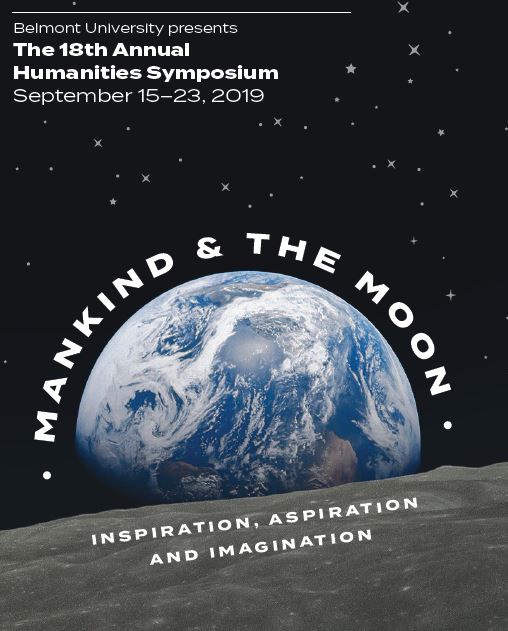 Belmont University's 18th annual Humanities Symposium will take place Sept. 15–23 with all events in Janet Ayers Academic Center on Belmont University's campus. This year's topic, "Mankind and the Moon: Inspiration, Aspiration and Imagination," was inspired by this year's 50th anniversary of the moon landing.
Aspiring to cultivate a campus conversation about our topic, and as talk of missions to Mars and returns to the moon percolates, this year's symposium gives us a chance to look to the future, even as we contemplate the long past of our fascination with space and the moon.
Presentations by Belmont faculty and guest speakers have an interdisciplinary range, as seen in the program. This year's topic also allows a broad exploration of the relationship between the humanities and the sciences, and of how imagination and space flight, poetry and science have built a pathway between humans and the moon.
The keynote talk will be by Dr. Noel Boyle. Presentations and panels with special guest speakers include:
Dr. James Hansen, author of First Man, the authorized biography of Neil Armstrong
Dr. Rhea Seddon, space shuttle astronaut, surgeon and health care leader, and member of the first class of women astronauts
Professor Margaret Lazarus Dean, chair of creative writing at University of Tennessee Knoxville
Dr. Wyman Williams, chief of the Space Systems Office, Georgia Tech University 
Dr. Robert Scherrer, chair of the Department of Physics and Astronomy, Vanderbilt University
Professors Mark Schoon and Casey McGuire, Department of Art, University of West Georgia 
English Professor Marcia McDonald shared, "In addition to our stellar lineup of guest speakers and faculty, we have outstanding contributions from Belmont students as well, including presentations on moon soundscapes from Oregon, the moon in Chinese culture, the moon in contemporary popular culture, a panel by the Science and Religion Club, as well as an open discussion led by Philologoi, the Philosophy Club."
As a prelude to the Symposium, the School of Humanities sponsors a film series. This year's series includes films ranging from a 1929 German film to the 2018 First Man.
More details are provided about the symposium on Belmont's website. Most of this year's events offer convocation credit and are listed in the Belmont Calendar.