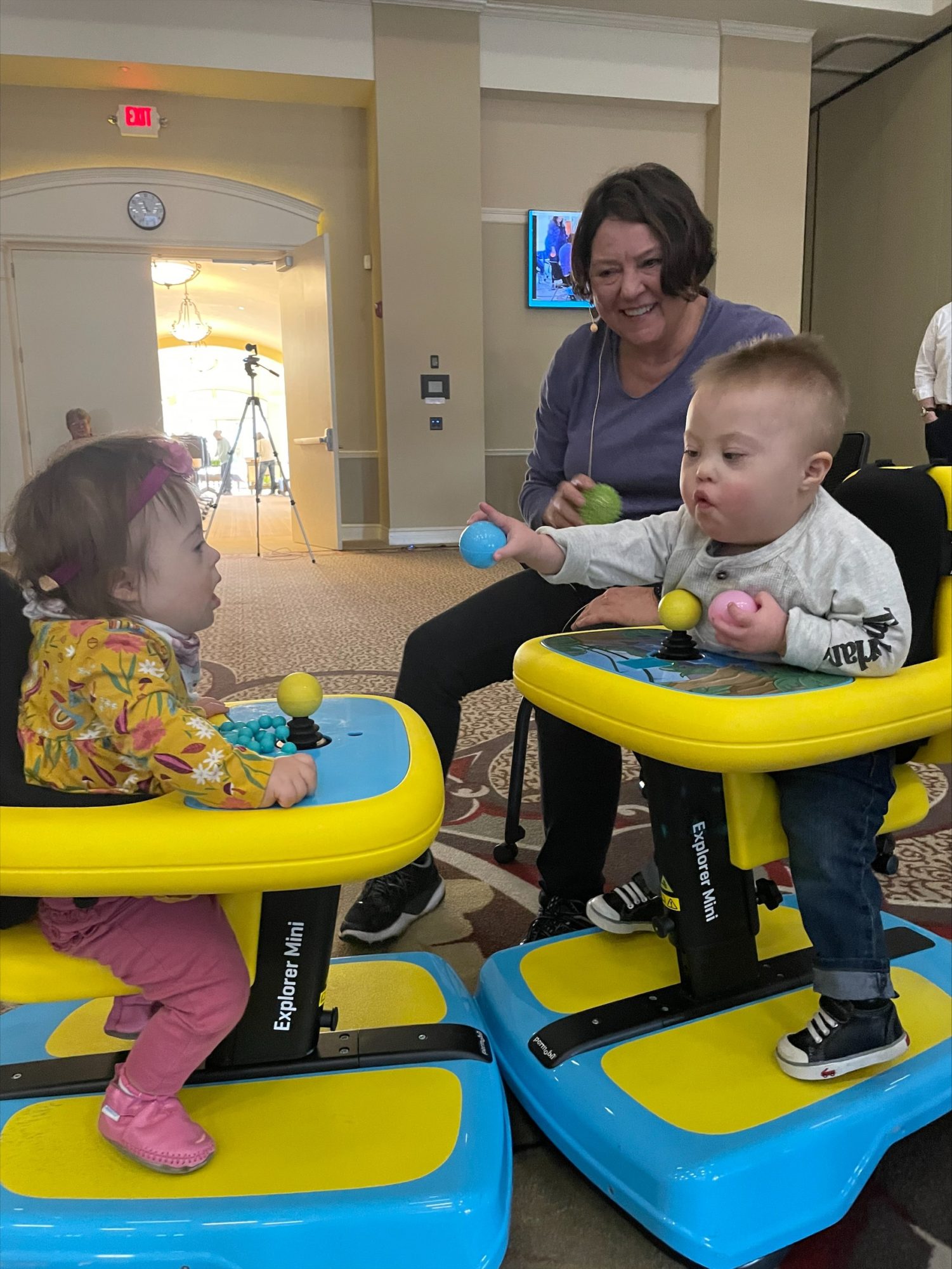 For the past ten years, Associate Professor of Occupational Therapy Dr. Teresa Plummer has collaborated regularly with Permobil, an international leader in wheelchair manufacturing. This ongoing collaboration led to her involvement in developing The Explorer Mini, the first and only powered mobility device designed for children 1 – 3 years of age. Belmont OTD students have also had the opportunity to learn from and participate in this collaboration.
The Explorer Mini was listed in TIME Magazine's "Top 100 Best Inventions of 2021" and was announced as a finalist for the 2022 Edison Awards in Personal Technology, awards that globally recognize, honor and foster innovators and innovations that positively impact the world. Winners will be announced later in April.
Children who have challenges with mobility because of diseases like muscular dystrophy, cerebral palsy or Down syndrome have been shown to benefit cognitively and socially by motor-supported movement. But children aged 1 – 3 are too small to use most motorized wheelchairs on the market. Permobil recognized these needs and created The Explorer Mini expressly for this demographic, alongside Dr. Plummer and her team, to jumpstart children's physical development through on-time mobility development.
"I have always known this would make a profound difference for children with disabilities," said Plummer. "It is nice to see that others recognize the value of this mobility device."
The Explorer Mini allows the child to control the chair themselves using a joystick. See a toddler use the device for the first time here.
Plummer recently presented a two-day workshop in Iowa to the early intervention specialist, special education teachers and director of Easterseals. Four children joined the group to trial the device at the conference. "It was profound to see two infants with Down syndrome interact with a peer for the first time in their lives," Plummer explained. "Generally they loved one another's company, but when the little girl took the boy's favorite toy, he abruptly reversed his Explorer Mini, made the 'I'm really mad face' and left. To see two infants socialize together brought tears of joy and excitement to the audience of 150 and the parents of the two precious precocious babies."
Since the release of the Explorer Mini, Plummer and her colleagues Dr. Heather Feldner, assistant professor at University of Washington, and Allyson Hendry, private practice speech language pathologist in Denver, published the first ever guideline for teaching caregivers and therapists how to teach the use of powered mobility. Thus far, they have presented at the International Seating Symposium, the Oceania Seating Symposium in New Zealand and through four international webinars.
Throughout the development of the product, Plummer has involved Belmont OTD students, including conducting focus groups that helped in the FDA approval process and writing literature, or guidebooks, for parents on using the device. Plummer was also involved in the research, teaching, publishing and testing of the device internationally.
Before development on the Explorer Mini began, Plummer and her students were involved with GoBabyGo, a movement beginning at the University of Delaware. For 10 years, GoBabyGo filled the gap in providing on-time mobility for infants prior to the creation of the Explorer Mini. Belmont's School of Occupational Therapy held one of the first workshops to teach therapists how to modify ride-on toys to allow infants access to powered mobility as no such device existed. This build day was held in conjunction with Permobil and Vanderbilt University Biomed students.
The collaboration led to Plummer's involvement in the Explorer Mini as the developers at Permobil needed a better understanding of what to expect from children during the device's product development. Plummer's expertise in this area lent itself well to the research needed to develop the new product. Now each year, Belmont OTD students participate in a GBG build as part of their course work taught by Drs. Plummer and Missy Bryan.
One special child who has benefited from the device is Susanna, or "Zu," the daughter of Belmont Provost Faculty Support Specialist Kim Carr. The Explorer Mini team tracked Zu's progress for three months and found that as much as the Explorer Mini is designed to promote early self-initiated mobility, it also promotes progress in achieving developmental milestones. Learn more about Zu's journey with the Explorer Mini here.
Carr said her family feels blessed to have connected with Plummer in the early research stages for the Explorer Mini. "It opened doors to the GoBabyGo program and eventually to Zu having an Explorer Mini of her own when it first came to market. It was incredible to see how Zu interacted with the world around her simply by putting her in positions and devices that more easily allowed for exploration," she explained. "Dr. Plummer is so knowledgeable in this space, and we learned so much from her about how vision and mobility are interconnected in a child's development. The Explorer Mini was so beneficial and enjoyable for Zu, it was hard to believe that it was the first device of its kind on the market. It fills a need for mobility for young toddlers and it does so in an inviting way that other kiddos think is just a cool scooter!"
Dr. Katy Schmidt, Belmont alumna and now assistant professor at Belmont, said being part of the GBG build day as a student was invaluable in preparing her for her career. Each student team collaborated with a child with a disability and his or her family to modify ride-on car toys to become mobility devices that would help the children better move around their environment independently.
"That opportunity gave me the chance to apply a variety of knowledge and use my skills creatively while getting to work with a real person, which was a huge experience as a student at the time. We were able to talk with the family and learn about the type of places they'd want their child to explore using the device. Providing that client-centered intervention helped me develop interpersonal skills I have tried to carry on through all of my practice since then," explained Schmidt. "Overall it was an inspiring experience and it continued my passion for occupational therapy as we served the clients and were able to see the difference we were making in their lives. I remember the build day being lively and full of excitement, and I hope to continue providing that for my clients and students now, as well."
Schmidt benefited from Dr. Plummer's leadership as a student and is grateful now to call her colleague. "Teresa has been a mentor and role model in both stages of my life, demonstrating how to be a leader through her incredible and expansive research, innovations and service to the Nashville community. She provides pro-bono occupational therapy services to underserved populations and conducts international presentations, all while truly caring about each and every student and client she works with," she said. "She is doing all this impactful work in occupational therapy, public health and beyond, and brings that experience back to share with her students in a way that they can relate, understand and apply it at their level. She engages students in these processes and instills her passion to go serve, creating new generations of servant leaders."
Each year, TIME seeks out the top 100 products, software, and services that solve some of society's greatest issues. Editors at TIME based their selections on originality, creativity, influence, ambition and effectiveness, selecting inventions that change the way we live, work, play and think about what's possible. View the full list here.