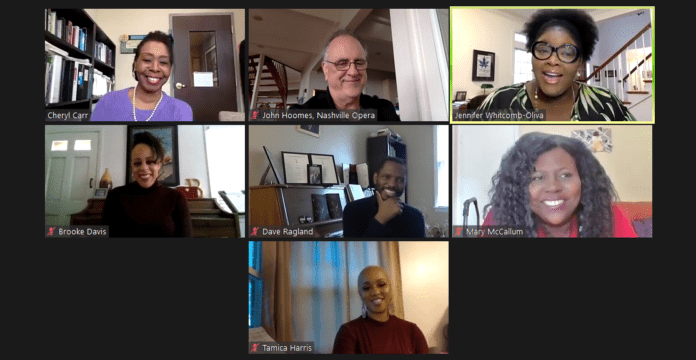 In the last event scheduled for Belmont's Debate 2020 Programming, Associate Dean of Curb College Cheryl Carr hosted the producers and lead performers of "One Vote Won," a contemporary video opera produced by Nashville Opera, for a roundtable discussion about the opera and its historical impact. "One Vote Won" tells the story of an African American woman's journey of voting.
John Hoomes, CEO of the Nashville Opera and artistic director of "One Vote Won," shared that this project began as a part of the commemoration for the centennial celebration of women's suffrage. The Nashville Opera, like many creative arts organizations, was asked to create a work to celebrate the historical moment. Hoomes researched African American women's suffrage and learned the stories of the courageous women who were involved in the movement. He continued to study the history of African American women's involvement in the civil rights movement and today's issues, and the outline for "One Vote Won" was created.
Hoomes then connected with Dave Ragland who created the musical composition for the production. The opera features heroines where they are coming from and where they are going, both metaphorically and literally, which influenced Ragland's musical composition choices. Ragland played examples of his inspiration for the opening theme compositions for each heroine, showcasing each unique style that helps tell their story.
Mary McCallum wrote the libretto and shared that her focus was on telling the story of the impactful, real women in a way that is interesting and honoring. Her writing was research informed, using the actual words recorded that the women spoke when applicable to make it come to life, concentrating on what it would look like if these ladies were actually having these conversations today.
Guest stars of the roundtable Jennifer Whitcomb-Olivia, Brooke Davis and Tamica Nicole shared about their approach to their characters, balancing story and believability. The group discussed how it is the realism of the opera that makes it so poignant. Dr. Carr shared her emotional reaction to watching the opera stemmed from seeing strong black women singing something that feels so relevant to today's issues.
"Opera is for everyone," Ragland shared. This is not an opera with extravagant wigs in a foreign language; rather, it is contemporary and accessible. The cast and crew hope that everyone who watches this opera will come with an open mind to watch and let what is being said resonate. The overarching theme of this opera encourages viewers to vote to make a change and let their voices be heard.
"These women in this movement have paved a path for us. They have paved this way for us and spent all this time to get us where we are now and all we have to do is find our courage, put one foot in front of the other and walk it. Walk that path," Whitcomb-Olivia said, closing by encouraging viewers to trust themselves and work to make a difference.