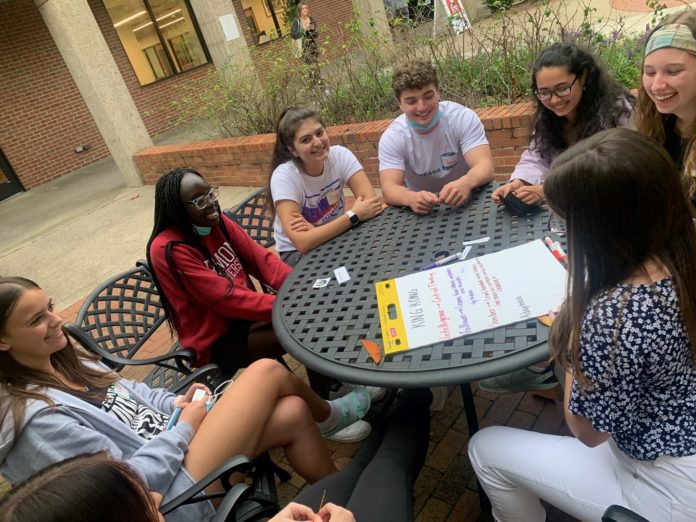 Each fall semester, the Belmont Office of Leadership Development (BOLD) hosts Bruin Lead: A 10-hour leadership development experience based on Barry Posner and James Kouzes' Student Leadership Challenge. During Bruin Lead, students collaborate with their peers to learn and practice exemplary leadership through the completion of hands-on interactive activities and experiences facilitated by Belmont Student Life staff members.
This week, BOLD hosted a record-breaking 195 aspiring undergraduate student leaders. With a choice between an all-day experience or a two-day experience, Belmont freshmen, sophomores, juniors and seniors from 11 academic colleges participated in Bruin Lead.
One student stated, "My biggest takeaway was just that fact that there were so many people willing to participate and help grow themselves through this process. It was fun to get together with like-minded people to encourage leadership development." 
Leadership at Belmont is defined as a values-driven process of individuals from diverse backgrounds working together to boldly and ethically engage and transform the world. Students were able to put this philosophy into practice as they learned the importance of understanding and establishing their personal values and aligning group values to serve others and ultimately create more leaders. The outcome, growth and application of that philosophy put into practice during Bruin Lead was remarkable.
By Modeling the Way, Inspiring a Shared Vision, Challenging the Process, Enabling Others to Act and Encouraging the Heart, concepts from the book, students were trained to lead well in life, at Belmont and beyond. Bruin Lead is the kind of character-forming, hope-inspiring, future-shaping, bridge-building development Belmont students will need to engage and transform their communities and the world.
It is the goal of BOLD to meet students where they are in their leadership ability, equip each individual to reach their full potential and prepare them for leadership opportunities. Another student stated, "My biggest takeaway was that anyone can be a leader. I previously believed this was somewhat true, but today, I saw that anyone truly can be a leader with our different backgrounds and experiences." Another student stated, "I think the biggest takeaway was being able to see my capabilities as a leader."
Graduate students participating in GOLD (Graduate Opportunities in Leadership Development), were also challenged this week as they facilitated sessions during Bruin Lead. They were able to pour into undergraduate students and guide them in their leadership journey and they were challenged to invest in their own development by stepping outside of their comfort zone to facilitate and display leadership for others.
Bruin Lead takes place each fall semester. Leadership Lately is the next BOLD event, scheduled for Thursday, October 12 and Monday, October 25, at 10 a.m. during the WELL-Core hour. Leadership Lately will showcase the transformational leadership stories of individuals actively leading in their organizations and industries. Details can be found on Bruin Link.
Students may email bold@belmont.edu with questions and they may join BOLD and GOLD in Bruin Link.