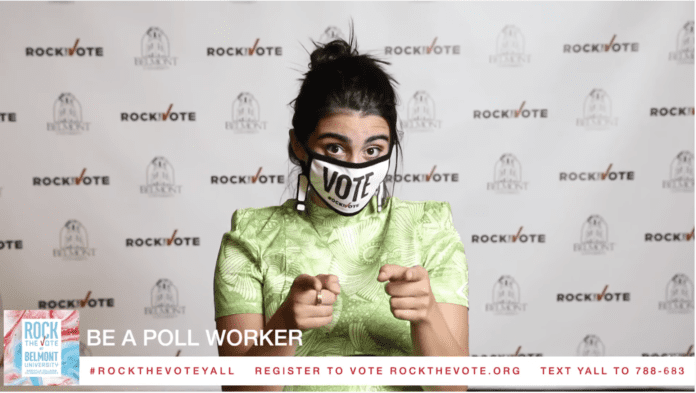 On September 22, Belmont University hosted the live-streamed concert 'Rock the Vote' as a celebration of National Voter Registration Day, in partnership with Rock the Vote. The event was hosted by Kate Cosentino, Belmont songwriting major, inside the Curb Event Center with musical acts from Middle Tennessee State University, Fisk University, Vanderbilt University, University of Tennessee and Belmont University, with headlining acts from Belmont alumni Moon Taxi and Bren Joy. 
Cosentino encouraged students to register to vote by sharing resources from Rock the Vote's website and hosting trivia activities to test student's knowledge on voter registration. The goal of the event and the Rock the Vote organization is to gain 1 million new registered voters out of the 4 million people that are eligible to vote this year.
The night started with the University's president, Dr. Bob Fisher, encouraging students to register to vote ahead of the upcoming election. He shared his admiration of students' desire to change the world and shouted out Belmont alumnus Gordon Kennedy for his Grammy Song of the Year, "Change the World." In coordination with this year's presidential debate programming, "The Ideas of America," Dr. Fisher left student viewers with the encouragement that "America is a great idea, if you make it your idea."
Alternative pop band Shelter Cove of MTSU opened up the show with a high-energy performance. Next, Lauren McClinton of Fisk University performed, as well as Annie DiRusso of Belmont University. The event closed with a special performance from Belmont alumnus Bren Joy, 2019 Urban Pop Showcase Winner and Best of the Best Showcase musician who performed one of his hit singles "Henny in the Hamptons."
Miranda Johnson, an MTSU student, imparted advice onto student voters to arrive at the booths early. Cosentino and Johnson discussed the convenience of arriving early to avoid lines and discussed the importance of making plans to ensure each citizen's voice is heard. Currently working with the American Democracy Project at her school, Johnson strives to civically engage students, so when they graduate they are already engaged within the community.
The headliner of the show, Moon Taxi, closed out the event with a high-energy set as they performed on Belmont's campus for the first time since their graduation. For the first time in a decade, the band performed at the Curb Event Center and ended by encouraging the student viewers to "get out and do your part safely."
Throughout the show, Cosentino virtually interviewed and talked with many college-aged registered voters to hear their advice to students trying to vote and shared how unique of an opportunity it is to vote. "You can make your voices heard on the issues that you care about," said Cosentino. To register to vote, visit RocktheVote.org and fill out the required information. The live stream concert 'Rock the Vote' can still be streamed on the University's YouTube page.