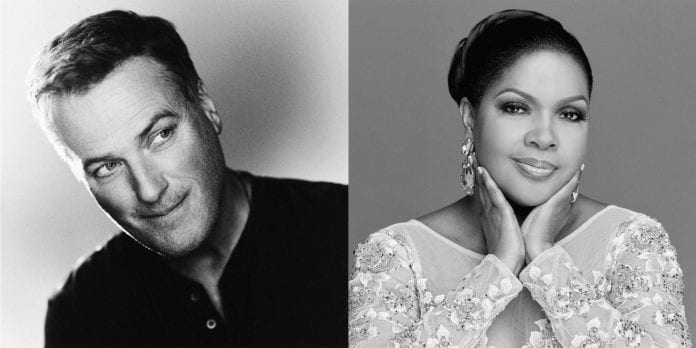 Featuring guest artists Michael W. Smith and CeCe Winans, the annual "Christmas at Belmont" production of traditional carols, classical masterworks, world music and light-hearted seasonal favorites will be taped at Nashville's Schermerhorn Symphony Center for the last time later this fall. Nearly 800 student musicians will join voices with Belmont School of Music faculty and the Nashville Children's Choir for the University's 17th consecutive "Christmas at Belmont" to be shown on PBS.
Produced by Nashville Public Television (NPT), "Christmas at Belmont" will air nation-wide on PBS on Monday, December 23 at 8 p.m. CT/ 9 p.m. ET. Nashville Public Television will also air the holiday spectacular on Christmas Eve at 7 p.m. CT, along with many stations around the country (check local listings for times).
Among the groups to be featured in this year's edition of "Christmas at Belmont" are the University Symphony Orchestra, Belmont Chorale, Percussion Ensemble, Musical Theatre, Jazz Ensemble and Bluegrass Ensemble, as well as mass choir. The performance includes both classic holiday music such as "Joy to the World" and "Hark, the Herald Angels Sing," as well as festive seasonal songs like "It's the Most Wonderful Time of the Year" and "White Christmas," to name a few.
Belmont University President Dr. Bob Fisher said Belmont is delighted to have Winans and Smith, both former Belmont Trustees and Applause Award honorees, serve as guest performers for this year's "Christmas at Belmont." "These artists have been longtime supporters of the University and our students. We are thrilled to have their artistic caliber at the forefront of our annual show and for our students to have their model of musical expertise and Christian commitment to look up to," he said. "We're incredibly grateful for our partnership with Nashville Public Television that brings the tremendous talent of our world-class School of Music to a national audience."
"It's been along time coming but it's finally here," said Winans. "I get a chance to be a part of one of the most wonderful events of the year – Christmas at Belmont! Merry Christmas!"
The best-selling and most-awarded female gospel artist of all time, CeCe Winans has influenced a generation of gospel and secular vocalists over the course of her astonishing career. She's been inducted into the Gospel Music Hall of Fame, the Hollywood Walk of Fame and the Nashville Music City Walk of Fame, in addition to being named a Trailblazer of Soul by BMI and garnering multiple NAACP Image Awards, Soul Train Awards, Essence Awards and more. She's sold in excess of 5 million albums in the U.S., topping the Gospel charts repeatedly while crossing over with smashes like "Count On Me," her stunning duet with Whitney Houston from the multi-platinum 'Waiting To Exhale' soundtrack.
Michael W. Smith said, "I am extremely thrilled to be a part of Christmas at Belmont this year. So much talent at this amazing school. And to finally get to do something together that involves Christmas music is a dream come true."
During Michael W. Smith's storied career, he's not only been honored with three Grammy Awards, 45 Dove Awards, an American Music Award and has sold more than 15 million albums, he's also given back to the global community. Smith has raised funds to battle AIDS in Africa alongside longtime friend Bono, started Rocketown, a safe haven for young people in Nashville to meet and find hope, and has helped more than 70,000 children's lives through Compassion International.
"'Christmas at Belmont' is one of our favorite projects here at NPT," said Kevin Crane, president and CEO of Nashville Public Television. "Working with the talented students of Belmont's School of Music, as well as the dedicated faculty and stellar guest hosts, is a highlight of the holiday season. This year, with the spotlight on Music City after Ken Burns' 'Country Music,' we are especially pleased to bring this Nashville tradition to our fellow PBS stations."
The performance and taping of "Christmas at Belmont" returns for the sixth and final time to the Schermerhorn Symphony Center, one of the few venues in the world featuring natural lighting and state-of-the-art acoustics, including motorized acoustic drapes and an acoustical isolation joint that encircles the entire concert hall and prevents sound waves traveling into or out of the hall. Starting in 2021, "Christmas at Belmont" will be taped in Belmont's new World-Class Performing Arts Center.
Dean of the College of Music and Performing Arts Dr. Stephen Eaves said, "With our excellent guest artists and talented School of Music faculty and students, we hope to inspire audiences to pause and embrace the joy and true meaning of this Christmas season. It is our privilege to partner with Nashville Public Television and PBS to share this musical celebration with families across the country."
About Nashville Public Television:
Nashville Public Television, Nashville's PBS station, is available free and over-the-air to nearly 2.4 million people throughout the Middle Tennessee and southern Kentucky viewing area. NPT's three broadcast channels are NPT, the main channel; secondary channel NPT2; and NPT3, a 24/7 PBS Kids channel. NPT is also available to anyone in the world through its array of NPT digital services, including wnpt.org, YouTube channels and the PBS video app. NPT provides, through the power of traditional television and interactive digital communications, quality educational, cultural and civic experiences that address issues and concerns of the people of the Nashville region, and which thereby help improve the lives of those we serve. Join the conversation at facebook.com/nashvillepublictelevision, on Twitter @npt8 and on Instagram @nashvillepubtv.
About Belmont University
Nationally ranked and consistently recognized as a "Most Innovative" university by U.S. News & World Report, Belmont University is home to nearly 8,500 students who come from every state and more than 36 countries. Committed to being a leader among teaching universities, Belmont brings together the best of liberal arts and professional education in a Christian community of learning and service. The University's purpose is to help students explore their passions and develop their talents to meet the world's needs. With more than 95 areas of undergraduate study, more than 25 master's programs and five doctoral degrees, there is no limit to the ways Belmont University can expand an individual's horizon. For more information, visit www.belmont.edu.