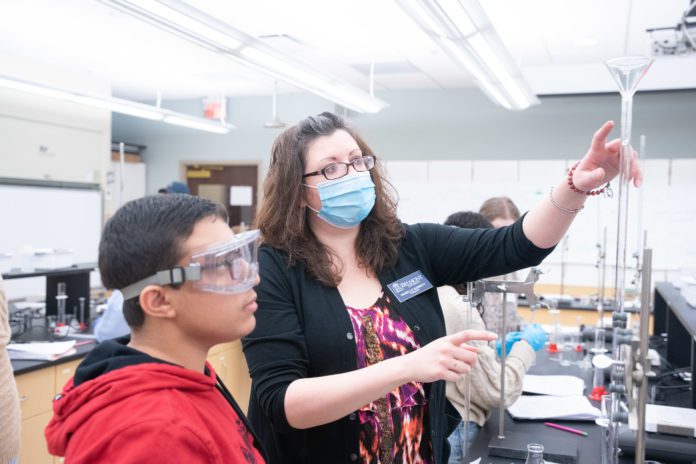 This spring saw a resurgence in chemistry outreach on Belmont's campus. On May 9, 44 fourth grade students from Donelson Christian Academy came to campus for a chemistry field trip to Belmont University. DCA teachers Ellen Deathridge, Tabitha Ingram, Eric Barbour and Amy Vanatta, as well as recent Belmont chemistry graduate Ryan Gagnon, were there to help event organizer Dr. Danielle Garrett, associate professor of chemistry education.
This field trip is part of Garrett's continuing work with the American Chemical Society (ACS) Science Coaches program. For the past 9 years, Garrett has partnered with Deathridge, engaging in a variety of interactive chemistry activities. "Working with Mrs. Deathridge through this program has been a blessing. These days bring me such joy, excitement and confidence for the next generation of young scientific thinkers," Garrett said.
At this event, DCA students engaged in discussions about chemical reactions, created their own pH indicator color scale, made predictions and tested the pH of common household products and explored the neutralization reaction between vinegar and antacid tablets. Students ended the day with a tour of the general chemistry lab and a flame test demonstration.
Earlier this semester, Garrett also hosted hands-on chemistry workshops for two local high schools.
In February, 15 honors chemistry students and chemistry teachers Allison Hardy, Grace Carlsen and Breyer Hillegas from Hillwood High School attended "Colorimetry and Calibration Curves: Exploring Serial Dilutions and the Beer-Lambert Law," a half-day workshop for chemistry high school students. Garrett led an interactive discussion covering topics including solutions, molarity, dilutions and calibration curves. Each student then got to build their own colorimeter, make a series of dilute solutions, use their colorimeters to get readings to generate a calibrations curve and test the accuracy of their calibration curve.
In January, 18 Advanced Placement (AP) Chemistry students and teacher Kevin Vaughn from Stewarts Creek High School attended "Back Titrations: Neutralizing Agents – How Basic is It?," a half-day guided inquiry workshop for AP Chemistry high school students. Garrett led an interactive discussion covering topics including acid-base chemistry, neutralization reactions and back titrations. Each student was then responsible for completing a series of back titrations to determine the effectiveness of commercial products used to reduce stomach acid, such as baking soda and milk of magnesia.
After each workshop, high school students got the opportunity to have lunch and engage with Belmont students in the College of Science and Mathematics. After a campus tour, students were also led on a tour of the CSM lab facilities with Belmont faculty, including Dean Dr. Thom Spence, Associate Dean Dr. Lynn Jones and Chemistry Professor Dr. Kim Enstminger.
Garrett said, "Chemistry outreach is one of my passions, and I am so grateful Belmont has given me the opportunity to pursue developing and hosting these learning experiences! I love having the opportunity to work with such engaged scientific thinkers who are enthusiastic to ask and answer questions and eager to learn new material."