Belmont's Department of Foreign Languages is always looking for ways to offer students professional development and demonstrate the importance of the skills they are developing for the work world. On January 24, Dr. Viktorija Bilić, assistant professor of translation and interpreting studies at the University of Wisconsin Milwaukee, held a subtitling and translation workshop on campus.
Bilić covered the differences in dubbing and subtitling, as well as the various types of subtitling work, such as intralingual for the hearing-impaired, live subtitling for news broadcasts and interlingual for foreign films. The group also discussed challenges in subtitling work, such as character and line restrictions, time constraints, colloquialisms, how to convey accents and more.
Associate Professor of German Dr. Regine Schwarzmeier said opportunities like this open students' eyes to the possibilities they have in studying foreign languages. "It's about making it relevant. Especially since we have a film major now, this workshop shows the importance of subtitling and shows students a way they could use their skills in the film industry," she said. "I think they are surprised by how much goes into it."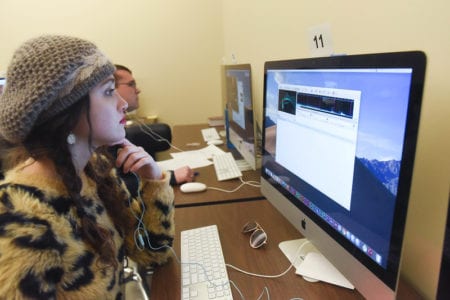 The workshop allowed participants to practice their skills with the subtitling software Aegisub. Students had to keep in mind the golden rules of lines, fonts, positions, etc and that the goal is not to be the most creative, but the most effective as they translated scenes in German, Spanish, French and Italian into English.