This week, Belmont's Office of Leadership Development (BOLD) hosted "Tower Talks," an opportunity for students to share their personal leadership stories and demonstrate their transformational growth over the years through a range of leadership experiences like BOLD programs, therapy, Nashville Skate and even martial arts. Their stories of perseverance, courage, humility, cultivating friendships and overcoming fear touched the hearts of attendees and inspired student leaders to continue engaging in personal leadership development.
One junior at Belmont shared her story of overcoming the fear of failure. Through her leadership development experiences in BOLD, she explained that "nobody is perfect and that it is our imperfections that lead to connection with others." 
A senior who has participated in BOLD since 2018 stated, "I used to run from leadership roles. I thought I would not qualify because I was resolved and quiet. I learned that I can still lead when I am quiet and resolved because of my character. I am capable of integrity, humility and loving kindness."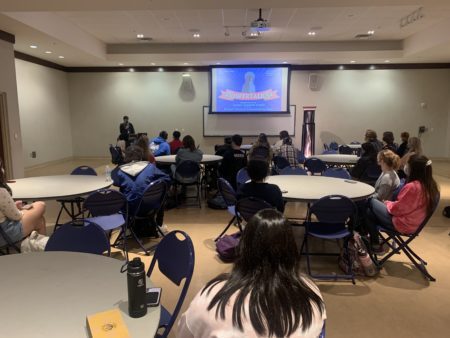 These student stories were powerful and served as an incredible display of what character-forming leadership development can do to impact the life of a student who is embracing their leadership journey.
Presenters' hope-inspiring stories encouraged their peers to take action on- and off-campus and challenged them to begin recognizing the importance of developing leadership skills of their own. With a community of leaders across campus, Belmont in turn becomes a better place for all. For example, one student leader connected their leadership experiences to their martial arts training saying, "A black belt is a way of life. It's something you are! I've learned to become my best and not the best."
As the end of the Fall 2021 semester approaches, students can look forward to the release of the Spring 2022 BOLD schedule. With events such as Social Change & Me and The Belmont Is Global or B.I.G Leadership Exchange, there will be many opportunities for students to continue growing through transformational leadership experiences. Email bold@belmont.edu for more details.