In an email to faculty and staff during his first week on campus, Belmont President Dr. L. Gregory Jones announced a new campus initiative known as the Belmont Accelerator for Social Innovation Collaboration, or BASIC. BASIC promises to encourage and empower individuals across Belmont's campus to use their intellectual capital and faithful commitment for the betterment of students, the local community and the region.
Jones explained in his email, "For us to be a catalyst for hope in Middle Tennessee, we need to be frontrunners in the quest for innovative solutions to what are commonly called 'wicked problems,' issues that are so pervasive and complex that they require intensive collaboration and experimentation across a variety of sectors."
Examples of "wicked problems" could include everything from intergenerational poverty and lack of educational opportunity to health care inequities and drug abuse, and beyond. The preliminary BASIC experiments will typically involve three or more disciplines across colleges or administrative areas, as complex problems require interdisciplinary thinking and diverse perspectives.
With academic year 2021-22, Belmont anticipates funding 3-5 BASIC grant proposals that hold the promise of making an impact in the region, especially in initiatives that enable children 0-8 and their families to flourish. Seed grant proposals do not have a cap, but most funded proposals will be under $50,000 with timelines for design and implementation being up to three years.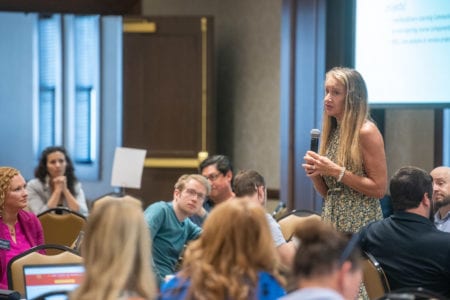 Approximately 120 interested Belmont employees from all corners of campus gathered for an information session on June 15 to learn more, further discuss BASIC and find potential collaborators to turn the tide on complex problems in the local community. More than 20 "passion projects" were discussed, and many more are still incubating. Examples of potential projects discussed include assisting vulnerable women with childcare and workforce re-entry, food insecurity and community building for immigrant and refugee populations in Antioch, Tennessee, digital rights and literacy initiatives, gamifying elementary learning needs at Metro Nashville Public Schools, supporting at-risk youth through theatre arts and addressing problems of pain and compassion fatigue in caregivers.
Jones said, "As a Christ-centered institution of higher education, we are blessed to have extremely capable, passionate and insightful faculty and staff, individuals who I believe can work together to create effective and innovative approaches to such problems in our community. As our Vision 2025 document states, we seek to be 'doers' of God's word, and that desire forms the foundation of this new initiative."
Those who are formulating BASIC proposals should complete this survey, even if they were unable to attend the information session. Additional interest sessions and planning sessions for proposals in progress will be held and announced to campus preceding the second round of grants.
Vice President for Transformative Innovation, Character, & Purpose Dr. Amy Crook is helping to manage the BASIC process. In a follow-up email to campus, Crook said, "I'm so proud of your ingenuity and generosity of spirit, and look forward to walking alongside you as your projects develop. We look forward to seeing your creative social innovations and to sharing more on our first BASIC programs as they roll out this fall."