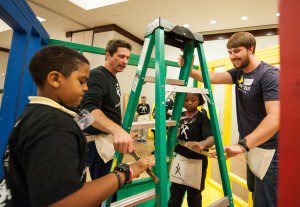 What if a 10-year-old built your house? On Monday, Belmont University student organization Enactus—a group dedicated to using entrepreneurial actions to transform lives and build a better, sustainable world—partnered with If I Had a Hammer to host a build on Belmont's campus with school-age children serving as the construction crew. And it's all for a great cause—promoting STEM education.
Hammer, as the program is known, emboldens and teaches children the value of math and other STEM fields (science, technology, engineering, and mathematics) through the fun, real-life experience of building a house. Though careers in STEM fields are increasing, studies show that children are becoming less interested and more intimidated by these areas.
"We are grateful that Belmont University is partnering with us to give a 5th grade class an educational day they won't soon forget," said Perry Wilson, founder of If I Had A Hammer. "The Hammer House Build is a fun and engaging experience that helps students connect what they are learning in the classroom to how they will use it in the real world. That's why the foundation of the Hammer Math program is built on fractions and measurement. After working with over half a million children for the past 20 years, we realize that if children can master fractions, it can unlock their potential to do higher-level mathematics. It gives children the opportunity to master the skills needed for a career in the STEM fields."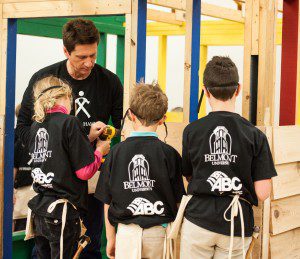 Approximately, 20 local children from Rose Park Math & Science Magnet Middle School participated in Monday's build in Beaman A&B. Representatives from Belmont's Department of Education also attended the event to see the project in action as they anticipate partnering with the Hammer program in the future.
Dr. Mark Hogan, chair of Belmont's Department of Education, said, "The Teacher Education Program at Belmont University is excited to partner with 'If I Had a Hammer' as part of the STEM-Mathematics initiatives that we will be rolling out over the next few months. As Pre-K-12 students continue to struggle with mathematics in schools, programs like If I Had A Hammer provide opportunities for educators, both teachers and administrators, to see first-hand how the achievement gap can be turned around when students are taught direct application of foundational mathematics skills."
If I Had a Hammer is an applied mathematics program that shows elementary and middle school kids the real-life relevance of what they're learning. By integrating fractions and measurements, students develop a new appreciation for what they're learning. At the University of Memphis, the program resulted in a 64.4 percent increase in math scores for city schools. Additionally, 60 percent of kids reported feeling more confident in their learning abilities, 85 percent better understood math's importance, and 65 percent said understanding math was easier and that they'd like to take more math courses because of their Hammer experience.
Belmont Enactus is helping If I Had a Hammer establish a strong base in Nashville by organizing Monday's event and creating proposals to encourage additional partnerships between the University and the Hammer project. Enactus members also hope to expand their work with the program to include teaching students financial literacy as part of the build. In addition, Enactus hopes to assist the program in extending its reach, potentially to new cities including New York and Cleveland, Ohio.
Katelyn Jones, a Belmont senior management major and Enactus member working on the Hammer project, said, "The Hammer program and its presence on college campuses encourages kids to plan and set goals, like going to college, which is why Belmont Enactus is ecstatic to support the program and this build. Together, Hammer and Belmont Enactus anticipate incorporating a new financial literacy program, overseen by Belmont's Department of Education, which will teach kids how to plan and pay for the house as well as build it."