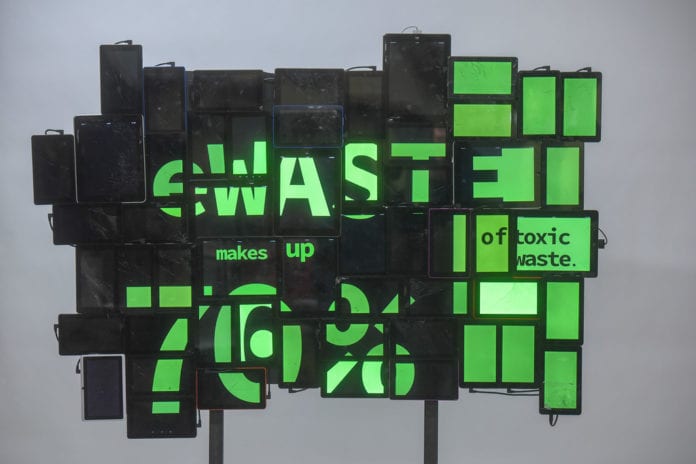 This past semester, students in associate professor of art and design James Pierce's Narrative and Advocacy class found a new way to incorporate Belmont's commitment to sustainability in the classroom, through raising awareness about E-Waste. A class project asked students to create a design for an electronic display of 55 broken tablets that created an E-Waste wall, while simultaneously highlighting Belmont's Experiential Design major.
Inspiration for the student project came from Pierce's desire to have projects in his Narrative and Advocacy class relate to a relevant and current issue such as sustainability. "I had been exploring the idea of E-Waste for a few years when a joke about reusing old devices to make one large screen made we wonder if it could actually be done," said Pierce.
After proving his idea would be possible, Pierce integrated the project into his course, involving students throughout. "The students were involved in most aspects of the project in some way, with the goal of giving them a sense of ownership of the project," Pierce added. "I believe outcomes are better and more beneficial to the student when they are more involved throughout all aspects of the project."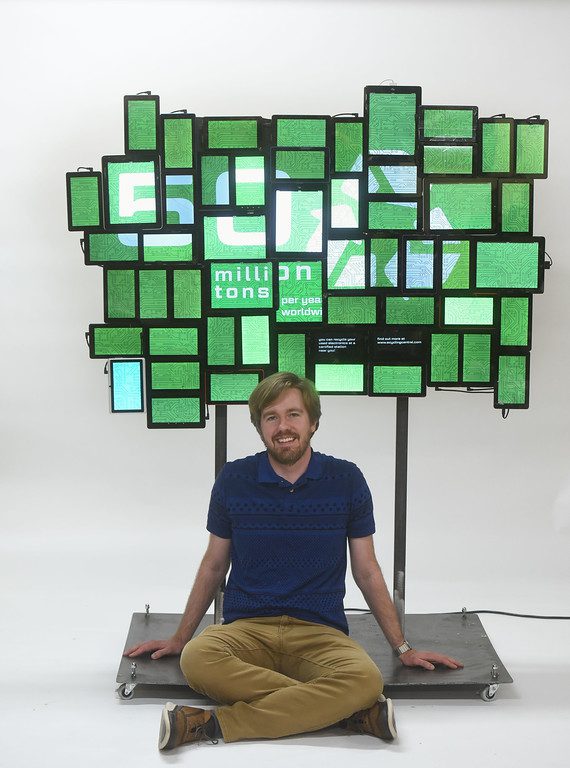 Pierce noted that E-Waste makes up two percent of waste in landfills in the U.S. but equals 70 percent of overall toxic waste. His goal for the project was to "create awareness of the E-Waste problem, while providing students a unique experience working on a project that you will not find elsewhere."
"As designers, we should be conscious of what we produce and where it ends up once we are done with it," said Pierce. "While a marketing email obviously produces less physical waste than a physical mailer such as a postcard, we often do not think about the waste created from our electronic devices."
The E-Waste wall will continue to be available for viewing in the Leu Center for Visual Arts into the fall semester. Students in the first of the Experiential Design classes in the fall, Experiential Design Studio I, will continue to create designs for the screen and add more interactive components.
Established in the fall of 2018, Experiential Design is one of Belmont's newest majors. The program was created to build on top of the existing Design Communications major and will be offering new courses beginning fall 2019. The new courses will primarily focus on digital and emerging technologies, such as web design, user interface and experiential design, augmented reality and more.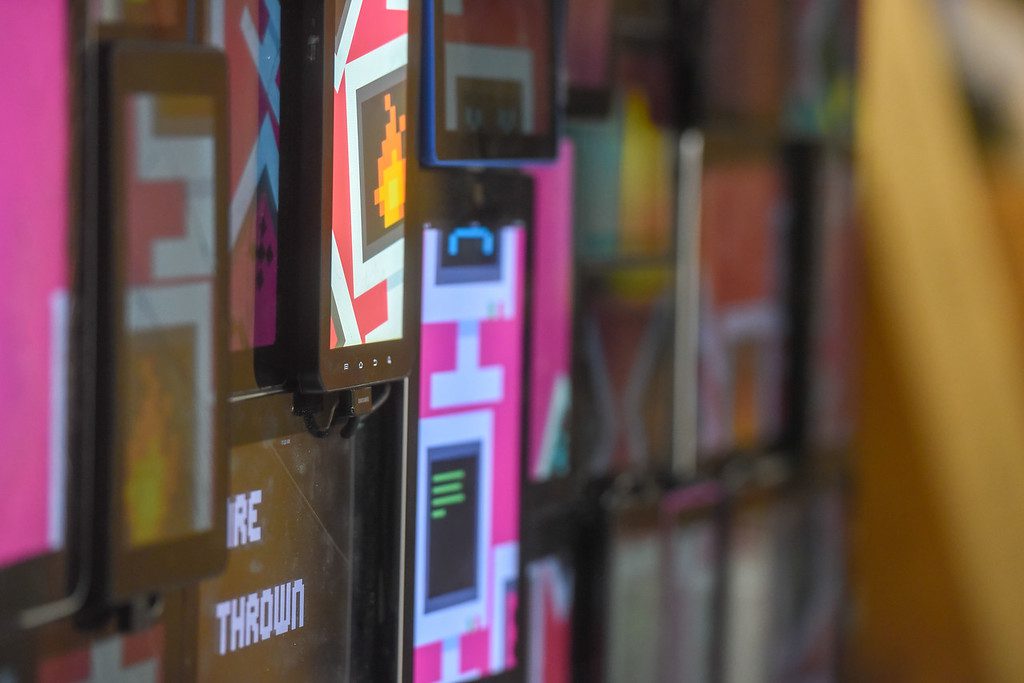 Experiential Design students will learn to be creative problem solvers and develop their skills to be capable of creating graphic designs for both print and digital mediums. While earning their Bachelor in Fine Arts degree, students will focus on human-centered design while working with class content focusing on social responsibility, designing for public spaces and recognizing and exploring commercial applications for experiential design.
"The goal for this major is to prepare students to create and design for future technology – some of which may not even exist today," said Pierce. "Students graduating from our program will have experience integrating design and technology to work in a variety of fields, including advertising, app development, entertainment and much more."