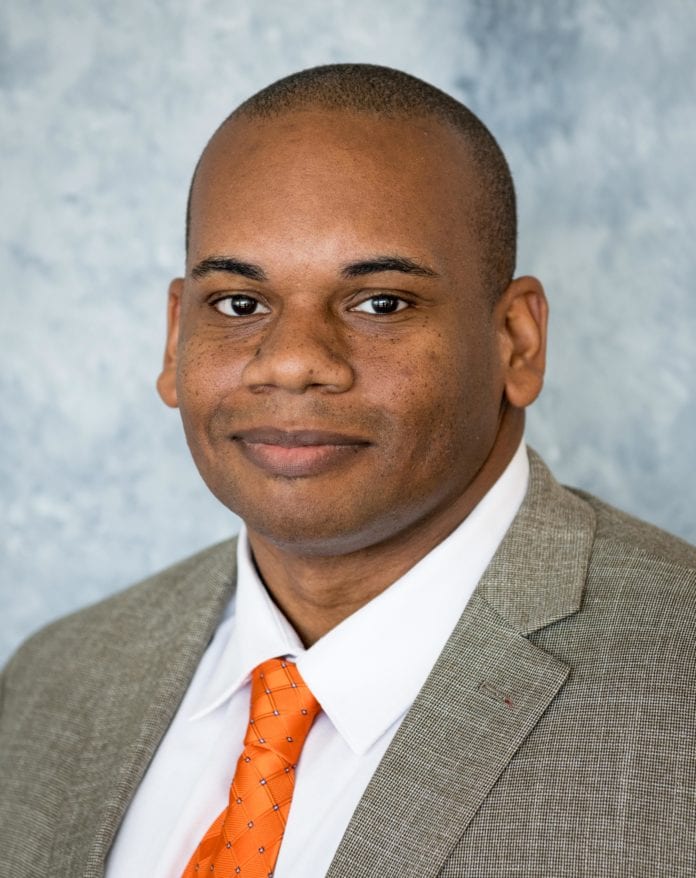 Dr. Wayne D. Lewis Jr. has been appointed to serve as the inaugural dean of Belmont University's School of Education, effective January 1, 2020. Belmont's School of Education, housed in the College of Liberal Arts and Social Sciences, includes undergraduate and graduate programs of study, apart from the School of Humanities and the School of Social Sciences.
Lewis holds a master's degree in urban studies and public administration from the University of Akron in Ohio, with post-baccalaureate studies in special education – mild/moderate disabilities from the University of New Orleans. He holds his Ph.D. in educational leadership and policy analysis from North Carolina State University.
Belmont President Dr. Bob Fisher said, "I am often in the position of announcing exciting new construction projects at Belmont, but it's even more rewarding to announce the addition of such a remarkable leader. Dr. Lewis will help build academic programs in our School of Education, and I could not be more pleased to welcome him to Belmont."
Lewis most recently served as the commissioner of education for the Kentucky Department of Education and previously served as the executive director for education policy and programs. He taught as an associate professor in the Department of Educational Leadership Studies and as an affiliated faculty member with the African American and Africana Studies Program at the University of Kentucky, where he also chaired the Educational Leadership Doctoral Programs. He is a former middle and high school special education teacher, having taught in public school districts in Louisiana (New Orleans Public Schools and St. Charles Parish Public Schools) and North Carolina (Wake County Public Schools).
"I am deeply honored by the opportunity to serve as Belmont University's inaugural dean of the School of Education. There is not another institution in the country with a history, mission and story like Belmont's," said Lewis. "I look forward to joining the students, faculty, staff and leadership in January as we work together to aggressively build on Belmont's rich tradition of preparing the most important resource in education: teachers."
In his new position, Lewis will work closely with Dean of the College of Liberal Arts and Social Sciences Dr. Bryce Sullivan during the transition period of growing the School of Education to be an independent college, apart from CLASS, over the next several years. He will chair the Teacher Education Council at Belmont and oversee undergraduate and graduate programs for teacher licensure, the M.Ed. leadership programs and new programs that are developed in education.
Sullivan said he could tell Lewis had the kind of experiences and qualifications that would make him an excellent candidate when he applied for the position. "After getting to know Wayne, I realize he will bring so much more to the position. He will be a transformational leader for our School of Education. He combines policy expertise, real-world knowledge about the best-practices in teacher education and a great vision for the future of education," he said. "I look forward to working closely with Wayne as he leads our faculty and staff as they deliver world-class programs designed to educate teachers for students in our community and our world."
Lewis will bring with him nearly 20 years of experience in education and excellence in teaching. His book, "The Politics of Parent Choice in Public Education: The Choice Movement in North Carolina and the United States," was published in 2013, and he has authored dozens of peer and editor-reviewed book chapters, periodicals and numerous invited presentations, as well.
Belmont Provost Dr. Thomas Burns explained that creating the position for the first dean of education will allow Belmont to lay the ground work to increase programs and enrollment. He said, "We wanted to find a different kind of leader to build our 'dream' of a College of Education, who will lead the faculty and staff in the School of Education to develop and deliver world-class programs designed to educate teachers for students in our community and our world as the next generation of compassionate, confident and committed leaders in the classroom and beyond."