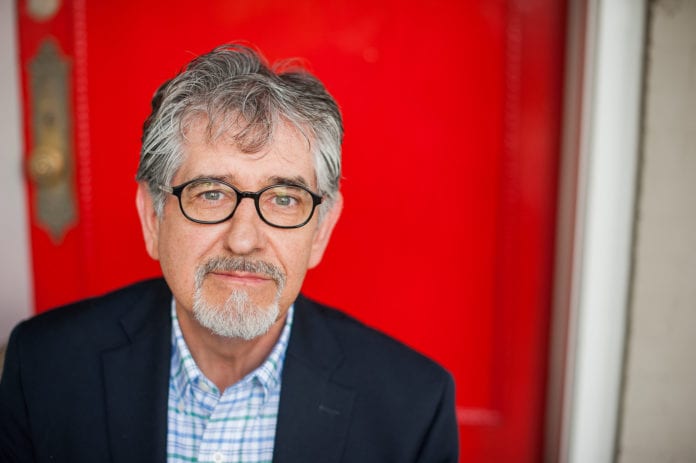 Dr. Devon Boan has spent the vast majority of his adult life at Belmont University – and he wouldn't have it any other way.
"Belmont has gone through enormous change, and it's fascinating what we've become," says Boan, who is retiring at the end of May after 25 years of service to Belmont. "Being a part of that change and growth has been a good place to be. Every day I was connected to the rich experience of the whole university. It's what you hope to do in a teaching career."
Boan came to Belmont in 1996 as the first full-time director of the Honors Program and credits the leadership of former and current Belmont faculty members Dr. Bob Grammar, Dr. Bob Byrd, Dr. Joyce Crowell, Dr. Ronnie Littlejohn and Dr. Maggie Monteverde, with the early formation of the program. Boan said, "Taking over leadership was humbling. So many marvelous people connected to the program had done enormous things with our students."
Ten years ago, Boan also created the Artist's Studio track in Honors, which he says "trains students for careers in the narrative, visual or performing arts by providing an understanding of the context in which artistic works transcend fleeting popular interest and represent works of enduring artistic quality. By the end of their training in The Artist's Studio, students are prepared to produce a senior project of professional quality in their own artistic fields (such as a novel, a symphony, a screenplay or an art show)."
Created as a response to the growing number of budding artists coming through the Honors Program, Boan says the intention of the Artist's Studio track was to teach those student artists about the historical and aesthetic demands of living the life of an artist.
Boan said, "There is always so much enormous creativity bubbling in the room at any given time with our students. The Artist's Studio track helps students understand the kind of truth that art reveals about what is beautiful and true in the world."
Says recent graduate Ridge Bethea, "The Artist's Studio track in the Honors program has far and away been my favorite part of my experience at Belmont. I loved every single class I took with Dr. Boan and the opportunity to put so much time into this project has been life changing."
Longtime Honors Program colleague Dr. Jonathan Thorndike noted Boan's contributions to the Honors Program. "Dr. Devon Boan was instrumental in establishing a state-of-the art Honors curriculum that allowed students to design their own majors, pursue research and creative endeavors and become outstanding citizens and scholars. Belmont Honors students are the best of the best, and they became leaders on campus in so many departments as tutors, performers and research assistants. Dr. Boan guided students through classes, tutorials and colloquiums that gave them great aspirations and created space for intellectual and spiritual growth.
In his office in JAAC 3065, Boan has started going through the tools of his teaching profession and the memorabilia he has collected along the way. He is saving all of the gifts students have given him: the street sign that says Devon Drive, the class photos of former students, the books with student messages written inside.
During his tenure in Honors, Boan estimates that he has taught more than 2,000 students, including seven current Belmont faculty members, faculty at other universities and law schools, the lead attorney at Microsoft as well as the legal counsel and a staff member for two U.S. Senators.
Boan said, "My vision for our students was to see them grow into leaders of the next generation and live that out. I'm most proud of the Honors program that we produced – the curriculum that pushed students to be more than they knew they could be."
Professor of Philosophy and Director of Asian Studies Dr. Ronnie Littlejohn, who was part of the hiring committee that brought Boan to Belmont, called Boan "visionary."
"When Belmont decided to make a serious commitment to establish an honors program that would have a distinctive focus and create leaders who were formed though an original and creative academic experience, Devon was selected after a national search. He gave the program a real vision and his advocacy for the adventure of the learning processes that came to define the program changed the lives of hundreds of students."
Dr. Bonnie Smith Whitehouse, Honors Program director and professor of English, says Boan's contributions to the Honors Program are immense and ongoing. "The Honors Program we have today is built on the incredibly strong history and legacy that Devon established. That legacy is ongoing through the students in the program and the faculty he has influenced."
In recent years, Boan also designed a course entitled The Romantic Allure of Falling Bombs: Literature and Love in World War II London for the Month in London study abroad program, twice teaching the course. Professor of English Dr. Maggie Monteverde, who leads Month in London, said, "This program really requires that not just students but faculty function as a collegial group, willing to spend time with student and faculty colleagues through the duration of the program, and not just during class time. I will miss having Devon with us. One thing I valued that he did on that program was really get students out walking around, experiencing London by foot and underground, helping them understand the value of engaging in person with place while reading about it. "
Boan, a published author, playwright and critic, is looking forward to having more time to work on his current novel, The Fabulist D'Artagnan in Harlem. As Boan describes, D'Artagnan Moxley is mysterious even by 1939 New York standards: a 21-year-old writer for The New Yorker fresh out of the cotton fields of Mississippi (part Truman Capote, part Huck Finn) who gets into bar fights, is determined to befriend a dirt-poor civil rights maverick, hobnobs with the city's most powerful social circle, and falls in love with too many women. And then there are those frightening stories he tells about his past and the unsettling feeling he's not what he says he is.
While Boan says he relishes the time he will have to be able to devote to his family and writing, he will also miss Belmont.
"I will miss the energy that goes on in the hallways – students stopping by, visiting with friends and peers in their offices; all of these people that came to mean so much to my life here at Belmont. I'm still loving my time with students. It will be hard to walk away from this."