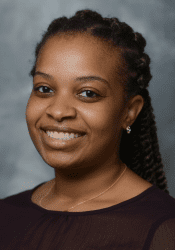 Dr. Chelsa Deanes, Clinical Pharmacist Fellow in Drug Information with Belmont University College of Pharmacy and Aegis Sciences Corporation, earned board certification in medical affairs through the Accreditation Council for Medical Affairs (ACMA).
The ACMA's mission is to raise the bar for pharma industry professionals with a particular focus on Medical Affairs and Medical Science Liaisons.
When asked about this achievement, Deanes shared, "Studying for the BCMAS certification while maintaining my responsibilities as a fellow was challenging. Honestly, I was somewhat intimidated by the process but, hard work always pays off! I am so thrilled to have accomplished my goal of earning my BCMAS certification. In addition to the intensive training that I have received as a fellow over the past year and a half, I am confident that I will excel in my future endeavors."
The expertise gained from this prestigious specialized training will serve Deanes well as she continues to engage with the Belmont University College of Pharmacy students, faculty and staff in advancing the strategic priorities of the college and advancing pharmacy practice.