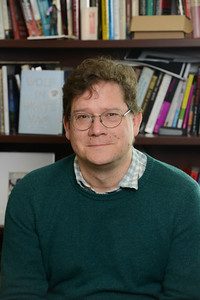 Belmont's Dr. David Dark was recently featured on the cover of the Nashville nonprofit street paper, The Contributor, for his story "Make Repentance Great Again." The article shares his personal experience with repentance as an educator.
Dr. Dark emphasizes the importance of owning up to our words because repentance "is a moral breakthrough that benefits self and others." He shares that "in a nation of equals, assuming responsibility for your own words and actions, especially when they prove to have been demonstrably abusive, is one actionable way of loving your country."
Regarding more accomplishments, Dr. Dark just signed a contract with the University of Texas Press to publish a book about U2 (Explain All These Controls: U2 & the Inner America).
Dr. Dark is a professor in the College of Theology specifically for the Religion and the Arts. Having been published multiple times by various publications, Dr. Dark has accomplished a lot of notable writing. To read more about him and some of his accomplishments, visit here.