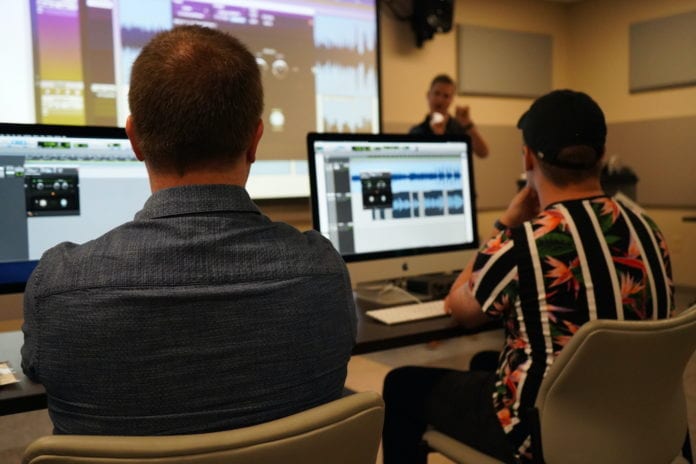 Known for innovation and taking students "From Here to Anywhere," Belmont University's Mike Curb College of Entertainment & Music Business recently invested more than $2 million in technology upgrades to give its students an unmatched advantage in acquiring skills needed for entertainment business, music industry, film and media success. The university's strategy to augment its facilities for media, motion pictures and entertainment studies will ensure students can stay on track and accelerate toward their degree goals, whether attending on campus, remotely or in a hybrid model.
Curb College Dean Doug Howard said, "In the same way that we were the first university to have a full Dolby Atmos® mixing stage, we are again leading the field in building a virtual copy of our Johnson Center technology, allowing students and faculty virtual access to our most sophisticated systems from anywhere in the world. I am incredibly grateful to Belmont's leadership for their commitment to invest in systems that keep our students at the forefront of the industry."
Among the significant enhancements in the recent upgrades are the following:
New S6 Mixing Console:  A new Avid S6™ control surface, one of the most sought after consoles in sound for film and television, was installed in the Johnson Center Theater. The S6 allows two mixers to work simultaneously, and the install upgraded the outputs to offer a full 128 channel Atmos mix. (See time lapse video of the install here.)
Remote Access:  Belmont installed 87 computers that are purposely built to be high-end video and audio editing remote workstations. Students can access these systems on their own personal computers from anywhere with an internet connection, providing them access to industry standard editing software Avid Media Composer®, Pro Tools® and Belmont's Avid NEXIS Server (all connected via LeoStream). Students, therefore, won't need to own an expensive high-end computer or their own software licenses to work on projects if they aren't on campus.  
Server Upgrade: The central media server was upgraded to an Avid NEXIS® system with 1.6 Petabytes of storage space, increasing storage by more than six times. Students in production-oriented classes use the server to store their projects so this upgrade gives them the ability to work directly from the server at speeds as fast or faster than internal and external hard drives as well as to have seemingly infinite access to storage space.  
The Next Phase:  The upgrades will continue throughout the spring and summer with the addition of Avid MediaCentral, which allows even more seamless integration with servers from anywhere, and JetStream, which provides a fast and secure way for students to transfer large files to and from the server from any location.    
Located next to Music City's renowned Music Row creative community, the Curb College of Entertainment & Music Business is a powerful magnet for aspiring creative professionals and is consistently ranked among the top U.S. institutions for media and entertainment studies. For more than 20 years, the College has applied Avid technologies to help prepare thousands of students for professional careers in television, film, media and music.
Avid CEO and President Jeff Rosica added, "Belmont University and Avid share a commitment not only to bring forward new generations of media professionals, but also to ensure their full command of technology that will advance the impact and reach of their ideas and stories. Today the school is moving fast on its exciting vision to create an even more extraordinary professional-grade environment for its students, and the Avid team is thrilled that our products and programs will provide the flexibility to evolve and grow."
In signing a five-year software subscription agreement for several hundred seats of Avid's editing and creation tools, Media Composer and Pro Tools, and the open MediaCentral® platform, Curb College students will be able to work on their stories and productions from any location on their laptop. With this upgrade, students will also be able to edit and manage projects collaboratively in real time with access to more than a petabyte of Avid NEXIS media storage. As part of this commitment, the college also upgraded the current Avid S5™ Fusion console in its state-of-the-art Johnson Center Dolby Atmos theater to a new dual-operator Avid S6 audio control surface. The Johnson Center, which opened in 2015, includes the world's first Dolby Atmos mix stage at a higher education institution, giving Belmont students a unique opportunity to learn how to deliver immersive Dolby Atmos theater experiences.
"Belmont University's strategic priorities are ready to adapt to change and embrace new technology so we can innovate—and this approach has prepared us for today's very challenging environment," said Curb College Technology Specialist Ron Romano. "Our new agreement with Avid plugs right into this philosophy and gives our programs a technical foundation to evolve and thrive over the long run. In the end, we'll be able to do an even better job of helping our students stay focused on strengthening their creativity and storytelling expertise and then get into the workforce with confidence."
About Avid Media Campus
With exclusive education discounts and flexible solutions specifically tailored to the needs of educational institutions like Belmont University, the Avid Media Campus program prepares students for the distinct career advantage of industry-recognized Avid certification. It facilitates a deeper engagement with Avid across its comprehensive creative tools and workflow solutions—spanning film/video/TV, sports, graphics, journalism, music/audio production, live sound and theater.
About Avid
Avid (Nasdaq: AVID) delivers the most open and efficient media platform, connecting content creation with collaboration, asset protection, distribution, and consumption. Avid's preeminent customer community uses Avid's comprehensive tools and workflow solutions to create, distribute and monetize the most watched, loved and listened to media in the world—from prestigious and award-winning feature films to popular television shows, news programs and televised sporting events, and celebrated music recordings and live concerts. With the most flexible deployment and pricing options, Avid's industry-leading solutions include Media Composer®, Pro Tools®, Avid NEXIS®, Avid S6™, MediaCentral®, iNEWS®, AirSpeed®, Sibelius®, Avid VENUE™, FastServe®, and Maestro™. For more information about Avid solutions and services, visit www.avid.com, connect with Avid on Facebook, Instagram, Twitter, YouTube, LinkedIn, or subscribe to Avid Blogs.
*Dolby Atmos is a registered trademark of Dolby Laboratories.