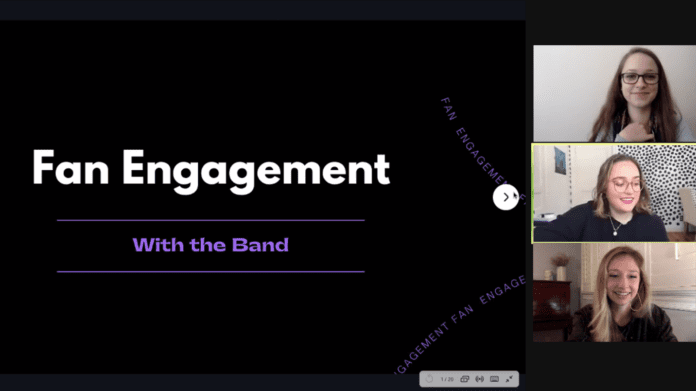 Faced with a season unlike any other, one where in-person events were no longer feasible, the Curb College student enrichment and career development team decided to address the challenge head on during the 2020-2021 academic year. "What does this season make possible?" was the guiding question for Senior Career Development Specialist Nina Woodard, Career Development Specialist Caroline Rupard and Coordinator of Student Enrichment Jenny Lokey. With a goal of maintaining as much of the Belmont experience as possible, they set out to continue providing excellent Curb College programming.
Starting in the summer of 2020 when it became evident that internship and job opportunities were hindered due to the pandemic, Rupard and Lokey jumped into high gear and created a virtual mentorship program. The program gave May graduates and Curb College students who would typically be interning the opportunity to connect with industry professionals in a virtual group setting. The summer iteration featured 110 student mentees and 23 industry mentors and received positive feedback.
One student who participated shared, "This program was truly one of the highlights of my summer. With everything being shut down and me having to move back home where there are no opportunities related to my career path, I was extremely disappointed and discouraged. I learned so much about both artist management and live events through this program, which are the two parts of the industry that I am most passionate about. In addition to teaching me a lot of valuable things about the music industry, this also helped me to become more comfortable networking virtually, which was difficult for me at first."
Because of the positive feedback and COVID's continued impact on internship opportunities, the program was held again in the fall and engaged 117 student mentees and 28 industry mentors.
Throughout the rest of the year, Woodard, Rupard and Lokey hosted or helped coordinate more than 30 virtual events with more than 80 industry professionals. The format of each event varied from panel-style seminars, small-group "Coffee Hours" and large networking mixers. Because all events took place online, they were also able to involve partners from Los Angeles, New York City and other parts of the country.
"We're so grateful for all of our incredible industry partners who continued to engage and invest in our students throughout the year," Lokey shared. "Not only did they provide great career advice and professional wisdom, but they also offered encouragement that pursuing a career in entertainment is still absolutely doable, even if it looks a little different right now because of the pandemic."
While the team is excited to hopefully return to in-person events soon, this season revealed that even in strange circumstances through teamwork, creativity and flexibility, there are still ways to connect students to the industry and equip their ongoing career exploration process.