Community Night is back at Belmont! Each year Belmont University invites the Nashville community share a meal and participate in a variety of free family-friendly events while enjoying a fun night of Bruin Basketball. This year marks the return of an in-person community night since the beginning of the pandemic in 2020, and guests rallied together to support the women's and men's basketball teams as they took on the Eastern Illinois Panthers.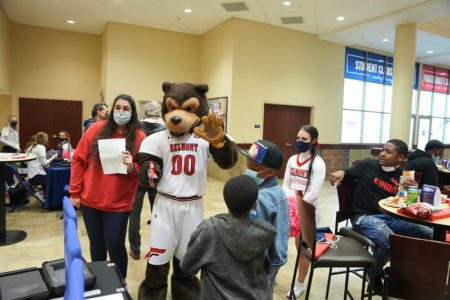 Joyce Searcy, director of Community Relations at Belmont, said the event has become a significant staple on campus. "Howling winds and pouring rain could not stop Community Night this year," said Searcy. "We are thankful to the loyal neighbors and Nashvillians who braved the weather to come out and cheer for the Belmont Bruins, enjoy complimentary dinner, face painting, balloon artists and take home free backpacks and goodie bags."
Guests were first ushered upstairs for the Belmont's Women's Basketball team's game against Eastern Illinois which began at 5 p.m. The Bruins defeated EIU with a final score of 77-46. Following the amazing win, guests celebrated with complimentary hot dogs, chips and soda. At 7 p.m, the Men's Team took on the men of EIU and came out with the same outcome, defeating the Panthers 81-57.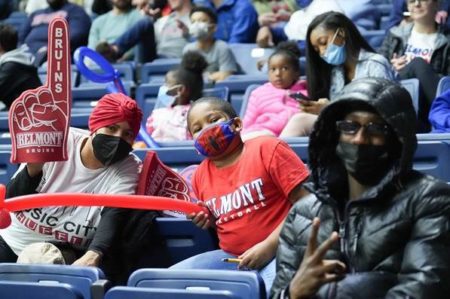 The night of fun festivities serves as a precursor to a whole week of homecoming activities, taking place February 21-26.