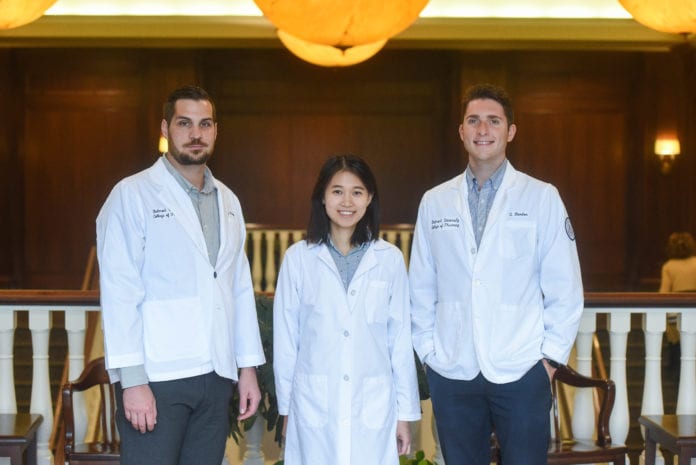 As a leader in Healthcare Informatics among colleges of pharmacy in the United States, the Belmont University College of Pharmacy's program frequently entertains visitors interested in learning more about the curriculum and activities of the teams. The spring 2020 semester was no exception.
On Wednesday, February 25, P4 students in the Doctor of Pharmacy program received Dr. Hilary Campbell, PharmD, JD. for a visit and class session. Dr. Campbell is a research associate at the Duke-Margolis Center for Health Policy, where she provides guidance on a wide variety of clinical, legal, regulatory, policy and technology issues. Dr. Campbell has developed curriculum for UCSF and Duke, worked at the Office of the National Coordinator for Health IT, and recently spent a one-year term as the special assistant to the chief data officer of the North Carolina Department of Health and Human Services. Dr. Campbell is currently researching innovative informatics programs in colleges of pharmacy in the U.S.
During the meeting, the P3 data governance team discussed current projects, including an ongoing collaboration with Google to expose all students in the PharmD curriculum to coding.
After a class observation and follow up meeting with Dr. Anthony Blash, the college's informatics professor, Dr. Campbell had this to say: "The students in Belmont's cutting-edge pharmacy informatics program aren't just learning highly marketable skills that are largely absent from pharmacy school curricula, they are putting them into practice and becoming skilled clinical informaticians and advocates for their specialty."
Belmont's College of Pharmacy is the only pharmacy school in the U.S. to be recognized as a Health Information Management System Society (HIMSS) Approved Education Partner (AEP). As the sponsor of the HIMSS/Belmont partnership, Associate Professor Anthony Blash, Pharm.D., CPHIMS has created a four-course sequence of classes that meets the HIMSS rigorous standards for quality health IT or healthcare education. The informatics courses provide student pharmacists in the healthcare informatics focus track an advanced knowledge of health IT upon graduation.
Additionally, through a combination of expert conversation, live projects and traditional study, students gain the advanced knowledge of healthcare informatics needed to successfully achieve the Certified Associate in Healthcare Information & Management Systems (CAHIMS) certification, further demonstrating the certificate holder's knowledge of health IT and management systems. To learn more about healthcare informatics partnering opportunities or to schedule a visit, please email Dr. Anthony Blash.