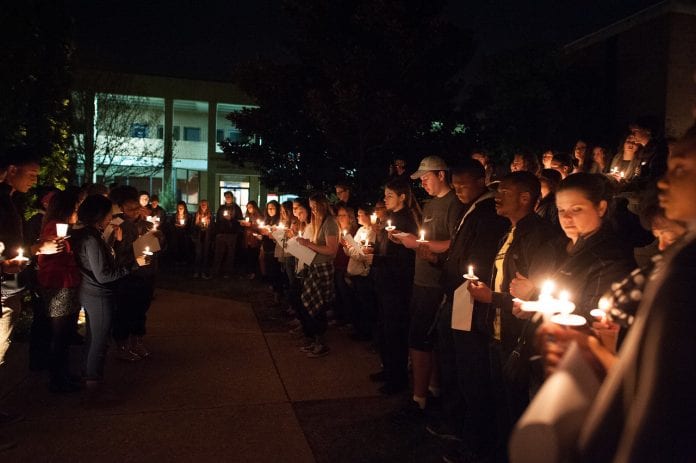 University announces annual MLK Week programming
With Dr. Martin Luther King, Jr. Day approaching, Belmont University has announced plans for its 2019 Martin Luther King, Jr. Commemorative week, including several opportunities for students, faculty, staff and community members to get involved. The annual commemorative program began at Belmont in 1997 to celebrate the life of Dr. King as a part of an observance for his birthday in January.
This year's keynote address will be given by Bishop Vashti McKenzie of the African Methodist Episcopal Church. A well known preacher, McKenzie is also the author of five books and served on President Obama's inaugural Advisory Council of the White House Faith-Based and Neighborhood Partnerships. All are welcome to attend the keynote speaker breakfast at 7:30 a.m. on Friday, January 18. Tickets can be purchased in advance, here.
Belmont's MLK week events will offer additional opportunities to learn about the life and legacy of Dr. King.
Friday, January 18 at 10 a.m. – Bishop McKenzie will host a convocation in the Massey Performing Arts Center focused around how this generation can continue Dr. King's legacy.
Saturday, January 19 – Belmont students, faculty and staff will have the opportunity to take part in the MLK Day of Service with other community members and universities in the area
Monday, January 21 at 6:30 p.m. – An art exhibition will be available for viewing in the Gabhart Student Center.
Monday, January 21 at 7 p.m. – A candlelight vigil will be held in the Gabhart Student Center followed by a procession across campus to continue reflection of Dr. King's life.
Wednesday, January 23 at 10 a.m. – Motivational speaker Ronald L. Jones will host a convocation focused on how student leadership can sustain Dr. King's legacy. This event will be held in the Gabhart Student Center.
Wednesday, January 23 at 10 a.m. in the Ayers Conference Room, 4th Floor – Dr. Rohini Anand, SVP of Corporate Responsibility and Global Chief Diversity Officer at Sodexo, will present on the importance of an organizational focus on diversity and inclusion.
Wednesday, January 22 at 6 p.m. – Join the Black Student Association for an interactive MLK worship service in the Chapel.
Friday, January 25 at 10 a.m. – Come hear Dr. Brenda Salter-McNeil, director of reconciliation studies at Seattle Pacific University, discuss the topic of soul change to social change in the Chapel.
All students, faculty, staff and community members are invited to attend the events of Belmont's MLK Commemorative Week. The events are sponsored by the MLK Celebration Committee, Bridges to Belmont, Office of Multicultural Learning & Experience, Center for Social Entrepreneurship, Spiritual Development, Office of the University Counsel, University Ministries, Teaching Center, Welcome Home Diversity Council, Division of Student Affairs, Office of Service Learning, Black Student Association and HOPE Council.