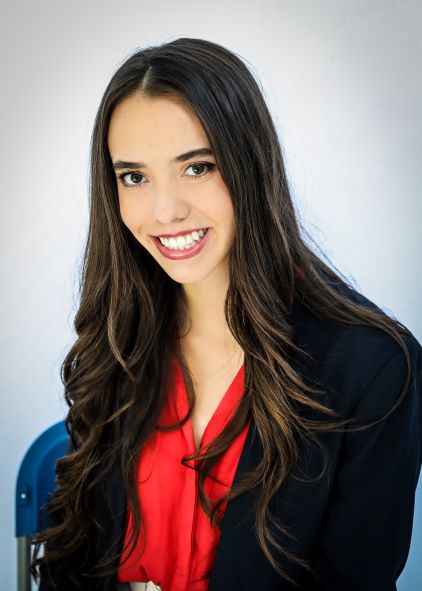 Global leadership studies major Victoria Berry landed an international summer internship that was a dream come true: translating and interpreting for a marketing and public relations company in Madrid, Spain. She was planning to live on her own and take the Metro de Madrid to work, but in early April, the college senior learned her internship had been abruptly cancelled, another setback of the COVID-19 pandemic.
Berry quickly pivoted her original plans and found out that the Intern Group, a provider of global internship programs, was connecting college students with virtual internship opportunities. The Mason, Ohio native interviewed from home at 4 a.m. with Centro Español de Logística, a supply chain management company in Madrid that was six hours ahead. Berry secured the virtual internship, working on international projects during June and July with a team from all over the world.
"I have a lot of connections in Madrid and wanted to use my Spanish skills in a professional setting," said Berry, who translated supply chain training documents to both Spanish and English for two projects that were centered in Europe. "The company was looking for someone with flexibility and warmth, especially during a pandemic time."
But it was on her third project, translating documents and assisting with research on a project designed to help supply chains get back up and running in the Caribbean after COVID-19, that Berry found herself connecting to some of her core learning experiences in Belmont's global leadership studies major. "My global leadership studies courses and professors prepared me so well for this internship," said Berry. "Having a background in the core disciplines of the major helped me understand people from a much broader scope. The emphasis of the major allows you to zoom in on a population and understand the issues they are facing across multiple disciplines."
Berry said her high school dream to pursue her love for languages, as well as to make a difference through serving others led her to Belmont. "The global leadership studies major is what drew me to Belmont. Before that I was looking into international business and international relations at various schools, but I did not want to focus on just one discipline," she explained. "Global leadership studies really appealed to me because it had the global piece that I wanted and the coursework offered was across multiple disciplines."
Tailoring her focus within the major on social justice, Berry is especially interested in issues facing the Latino community and refugees. "Courses in global leadership studies are writing and research heavy, which allowed me to develop my skills and learn more about what I'm passionate about," said Berry. She also studied abroad in Valladolid, Spain for the spring 2019 semester, where she further honed her Spanish language skills and lived with a host family in the city center.
Berry, a Belmont Recruiter, is slated to graduate in December, 2020. Buoyed by the experiences she gained during her summer virtual internship, she decided to continue her passion for serving the refugee community and for humanitarian issues by participating in two internships during her final semester.
She is working with Nashville area non-profit Nations Ministry Center from August – November, tutoring refugee children, helping them and their families navigate online school and connecting them to resources that set them up for success.
Beginning in September, Berry will also serve as a virtual intern with Novel Hand.com, an online community and blog founded by a Vanderbilt graduate that focuses on global humanitarian issues and how to become an activist. She will research and write about issues facing refugees.
"Global leadership studies put me on a path to be prepared for these internships," said Berry. "I submitted some of my research from my global leadership studies classes when I applied. My summer internship also really helped me to stand out. Overall, though the design of this major really allowed me to be responsible for my education and how I could shape it in the direction I wanted. That's really powerful."