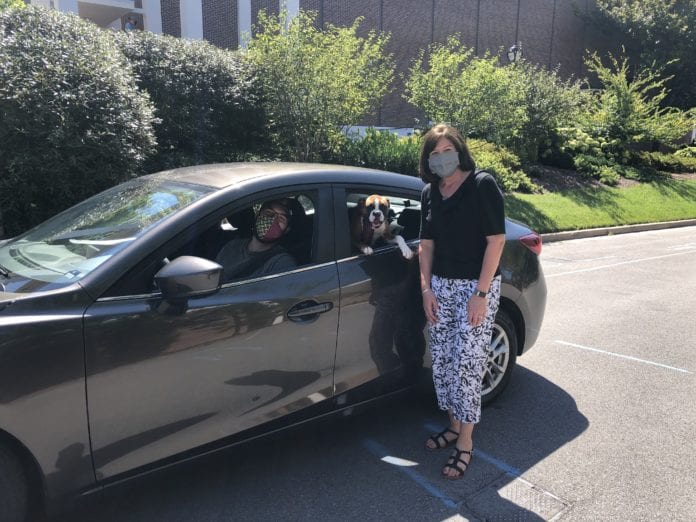 Belmont's Veteran Success Team greeted new and continuing student veterans for the fall semester with a drive-thru Welcome Back event a couple days before classes began. On Monday morning, student veterans pulled into parking spaces in front of the Lila C. Bunch library, where members of the Veteran Success Team met them at their cars, handed out welcome back kits and checked in briefly with each student veteran about the upcoming semester.
The longstanding tradition of a welcome dinner was canceled out of health and safety precautions, but Veteran Success Team Coach Kim Powell said the team was ready to welcome student veterans in other creative ways.
"When classes shifted to online over the spring and summer due to COVID-19, we heard from many of our student veterans who were struggling with isolation and technology issues with the online format," Powell explained. "We've been assisting them with these issues but wanted to find a way for an in-person touchpoint for the fall semester while still maintaining social distancing, mask and other important campus safety guidelines."
The drive-thru event provided the opportunity for more than 135 undergraduate and graduate student veterans to receive welcome back kits, which included food items and school supplies. Student veterans who are new to Belmont for the fall semester also received Bruin Vet kits, which are typically handed out at orientation and include a Bruin Vets t-shirt, laptop sticker and school supplies. The Bruin Vet kits also include a Bruin Vet field guide, developed by the Veteran Success Team with input from student veterans, which introduces new students to the Veteran Success Team, the Bruin Vets Center, the student veteran community and other important campus resources.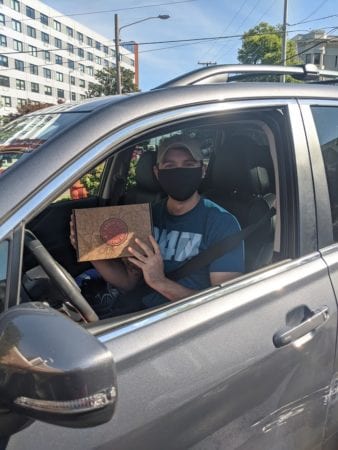 "Although in-person classes have not yet started for undergraduate students, some of our student veterans are in graduate programs that started classes on campus this week. It was important to us to engage with all of our student veterans who live locally as they start the semester," said Powell. "We heard over and over from students who showed up on Monday how good it was to connect with us, especially from new student veterans who had yet to meet us."
The Veteran Success Team is led by Dr. Mimi Barnard, associate provost of interdisciplinary studies and global education. Team members operate the Bruin Vets Center in Fidelity Hall, plan military and veteran specific events for students, assist with plugging student veterans into campus resources, and more.
Barnard explained, "The Veteran Success Team evolved from the cross-functional team of faculty and staff who participated in the first Veteran Reconnect Grant (2015, $95,000) and also in the most recent grant award (2019, $150,000). Student veterans tell us that they appreciate the personal support they receive at Belmont, the encouragement of staff and faculty, and the ability to relax and study in the Bruin Vets Center."